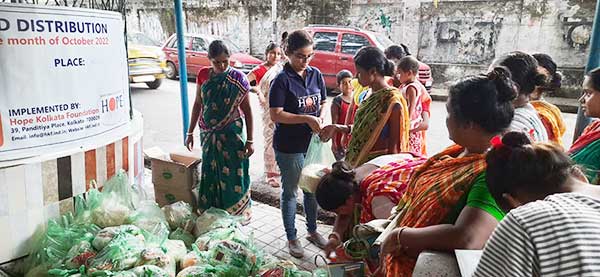 Together we can bring the change
Hope Kolkata Foundation is proud to announce a collaboration with Spencer's Retail for the project - 'Together we can bring the change', where Spencer's has donated 90,000 meals to 1000 children from our various programs for a month, in the form of a ration kit containing basics like rice, pulses, oil, sugar, salt, etc, to fulfill the nutritional requirements of the children.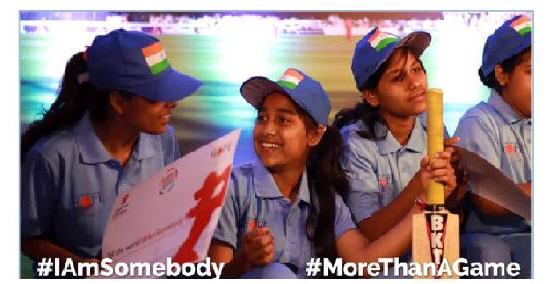 Street Child Cricket World Cup 2023
Hope is organizing
StreetChild Cricket World Cup 2023
. To know more,
click here
.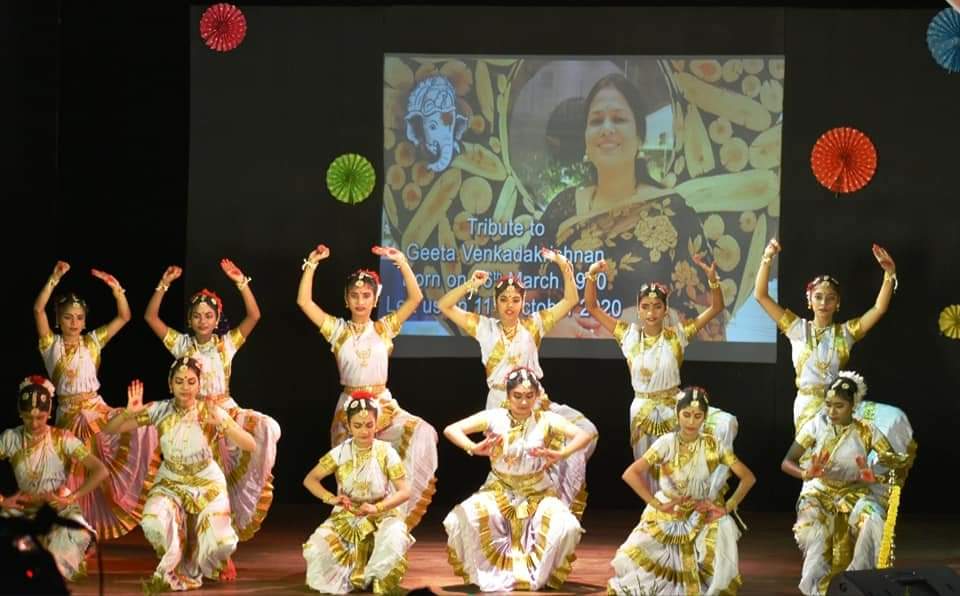 Foundation Day 2021
A big thank you to all our donors, supporters and friends across the globe who appreciated the beautiful performances of our children on the occasion of Foundation Day 2021 organized virtually on the 10th of November, 2021. This year the children dedicated their performances in the memory of our beloved Director, Ms.Geeta Venkadakrishnan who lost her life to covid in October 2020, serving humanity till her last breath ..🙏🙏🙏 we really miss her and her guidance continues to be our biggest strength till date .... we lost our mentor but gained an angel who would guide us all the way long to bring a smile to the face of a less fortunate child❤ We hope to organize our Foundation Day in 2022 on a grand scale and wish to have all our friends, donors and supporters from across the globe, physically present with us as we commemorate this special day !
Rozgar II: A step towards An Independent life
Hope Kolkata Foundation along with the Rotary Club of Calcutta Innercity organized Rozgar II, a special program with the aim to strengthen people's livelihood for sustainable economic and community development at Amar Deep Sangh, Sodepur, Kalitala. This noble initiative was supported by Century Ply in the esteemed presence of Rtn. Ajay Agarwal, District Governor and First Lady Mamta Agarwal and Ms. Geeta Venkadakrishnan, Director, Hope Kolkata Foundation. The occasion was graced by several other dignitaries, Mr. Navarun Sen, President, Panel Business, and Mr. SandipKar, CSR and Admin. At the programme fifteen beneficiaries from different sections of the society like rag pickers, maid servants and flower sellers among which ten were women and five men, were given cycle vans to generate greater income and bring about positive change in their livelihood.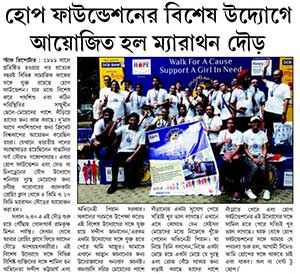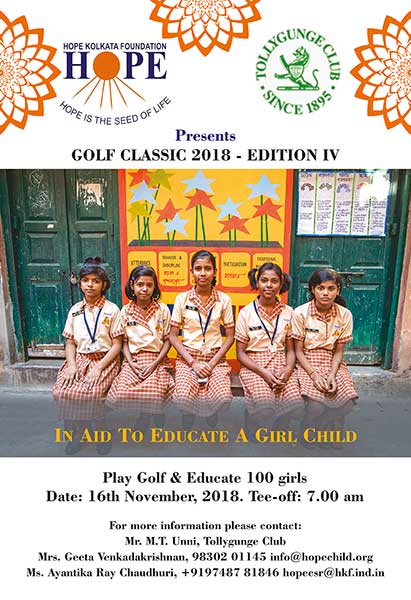 Golf Classic 2018
The Hope Foundation proudly presents to you 'Golf Classic 2018-Edition IV' on 16th November 2018 at Tollygunge Club from 7 a.m onwards. We are aiming to raise funds to educate 100 underprivileged girls through this event. We invite golfers across the city and come forward and be a part of the event.

Please get in touch with Geeta Venkadakrishnan (9830201145) / Ayantika Ray Chaudhuri (9748781846) for further information.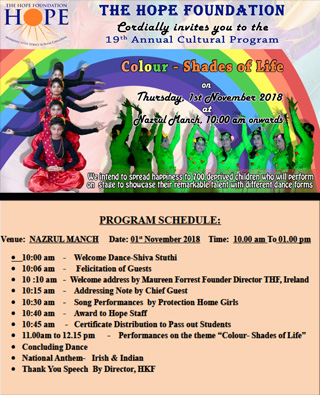 Foundation Day
"If we are to teach real peace in this world…we shall have to begin with the children" - Mahatma Gandhi
Each child is special. Violence and injustice against children is a global problem and cuts across geographical boundaries, class, caste, creed, and religion.
The HOPE Foundation is extremely proud of its partnership with 12 grass root NGOs, and indebted to children, students, volunteers, corporate, donors, friends, trusts, foundations, civil society organisations and most importantly government departments.
The Foundation and its partners proudly share their success with all of you, as we enter the 19th year of their journey with this year's theme "Colour – Shades of Life" and bring to you delightful performances by all our children from the protection homes and other partner projects on 1st November 2018. The venue for the event is Nazrul Manch, Kolkata.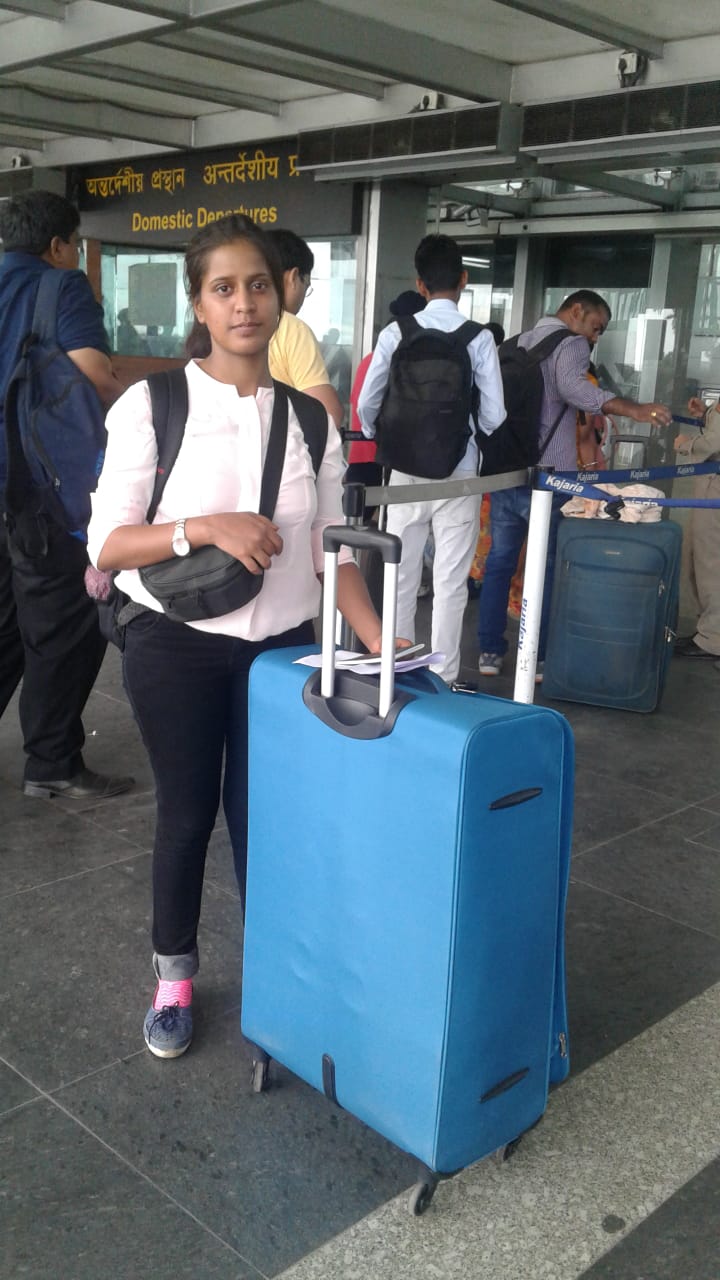 Visit of Mehrun to USA
It is a matter of great joy for us as one of our children, Mehrun Khatun from Ashar Alo Girls Home has been selected for a one year specialization course on Media at Northern Virginia Community College, Annadale University, USA.
The course primarily focuses on digital media, animation/film studies, motion pictures, television, graphic design, journalism.Public and media relations, social media marketing, web design and development.
What could be more special to see our little one metamorphose into a beautiful ambitious lady, all set to achieve her dreams and make it big in life. All our best wishes are with her.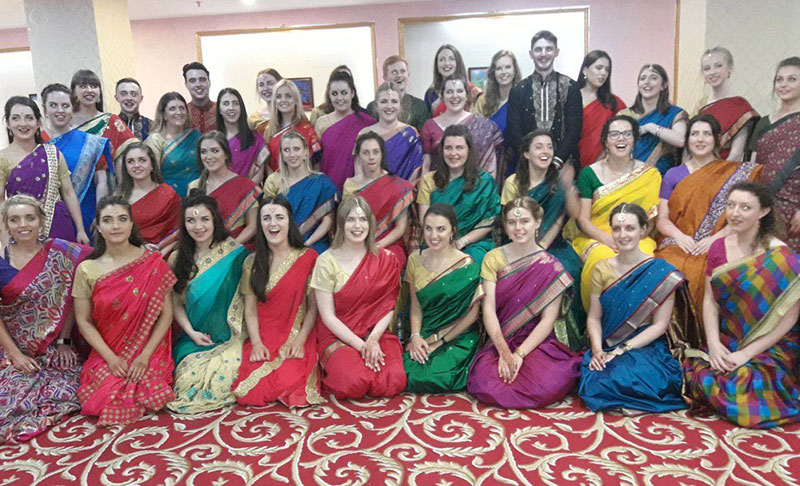 Dinner party hosted by the Froebel Group
Froebel College of Education is one of the five colleges in Ireland which is recognized by the Department of Education and Skills for the training and education of national school teachers. The teachers of Froebel College mainly focus on joyful methodologies and activity based learning techniques to help the children learn more vividly. It comprises of various types of art, songs, dance and drama. They also focus on the language development of a child.
A dinner party was hosted by the Froebel group recently at Vrindavan Gardens, Kolkata to commemorate 10 years of partnership between Hope and Froebel.The event included certificate distribution to all the Hope teachers and special educators who were imparted special training by the Froebel Group. It was followed by some Indo-western cultural programs by the Froebel teachers such as songs, dance etc.Our Hope teachers also presented a special song before them.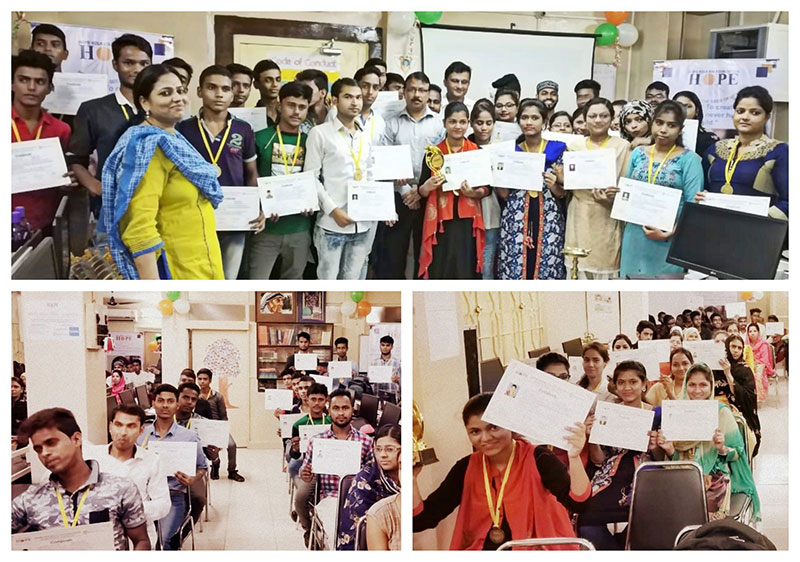 Certificates in Computer Application for students at Howrah
'Education is the movement from darkness to light' - Allan Bloom
The batch of our Hope Life Skill Centre at Howrah received certification for completing their 1 year course (2017-18) in Computer Applications, Spoken English & Personality Development and Financial Accounting & Tally.
It was a wonderful moment to receive the awards of merit coming from our CSR supporters. Thank you Geeta Ma'am, our humble director founder of Hope Kolkata Foundation and Supriya Sir and Umesh Sir from Harris Freeman Foundation to be present and encourage our trainees with a positive learning enviornment and the importance of E- Literacy in the present world.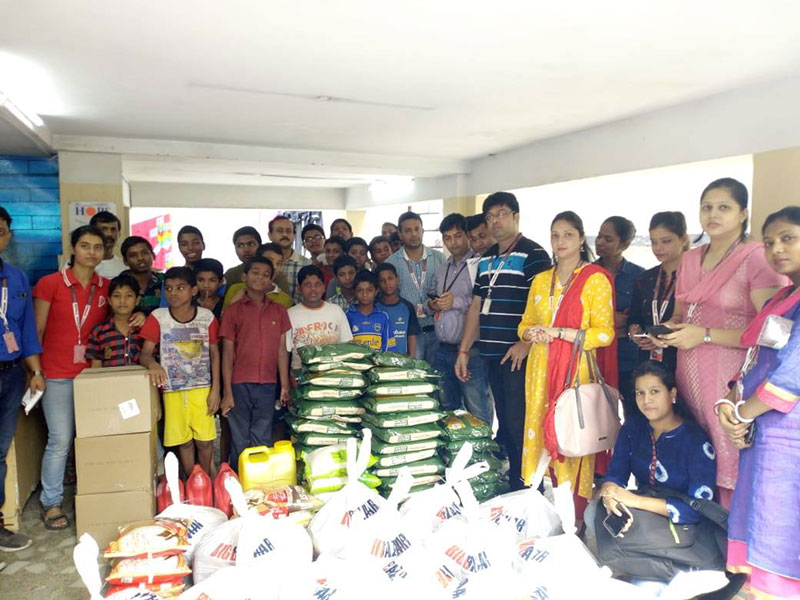 Donation from Brand Factory
We are extremely thankful to Brand Factory for donating grocery items to our Punarjiban Boys home.
They have proved in the truest sense that sharing is caring indeed.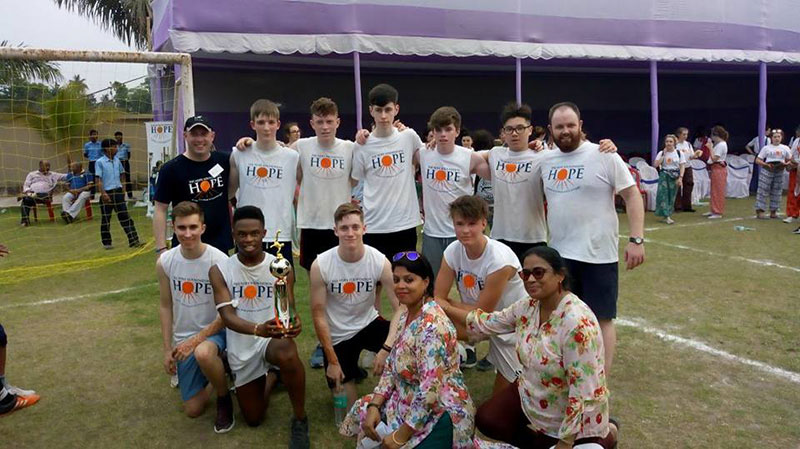 Hope Soccer Aid 2018
Hope Soccer Aid 2018 was a major success indeed!!
We are extremely thankful to Mt.Litera Zee School Maheshtala for hosting our Irish guests and organizing the soccer tournament between our home children, the school students and our Irish student in such an organized and uniform manner.
The soccer tournament really helped in uplifting the values of team spirit and unity and enhanced the process of 'buddy making ' between the school students and our Irish volunteers and our protection home children.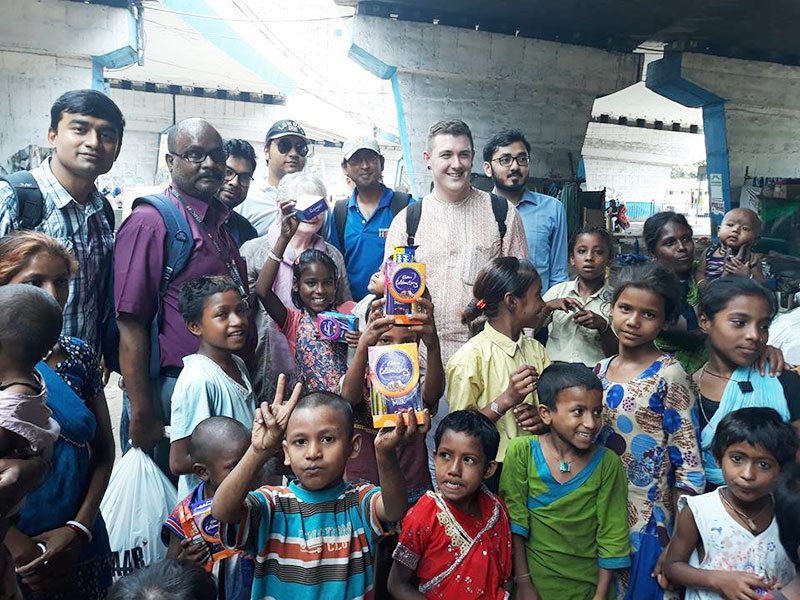 Celebration of The International Day of street children
The International Day of street children was celebrated at Hastings area under the ambit of our Child watch Project and in the Topsia centre of our Nabasha Project
It was such a beautiful feeling to see so many volunteers actively involved to bring a smile of the faces of these special children, interacting with them and gifting them an array of goodies like chocolates, balloons and cakes.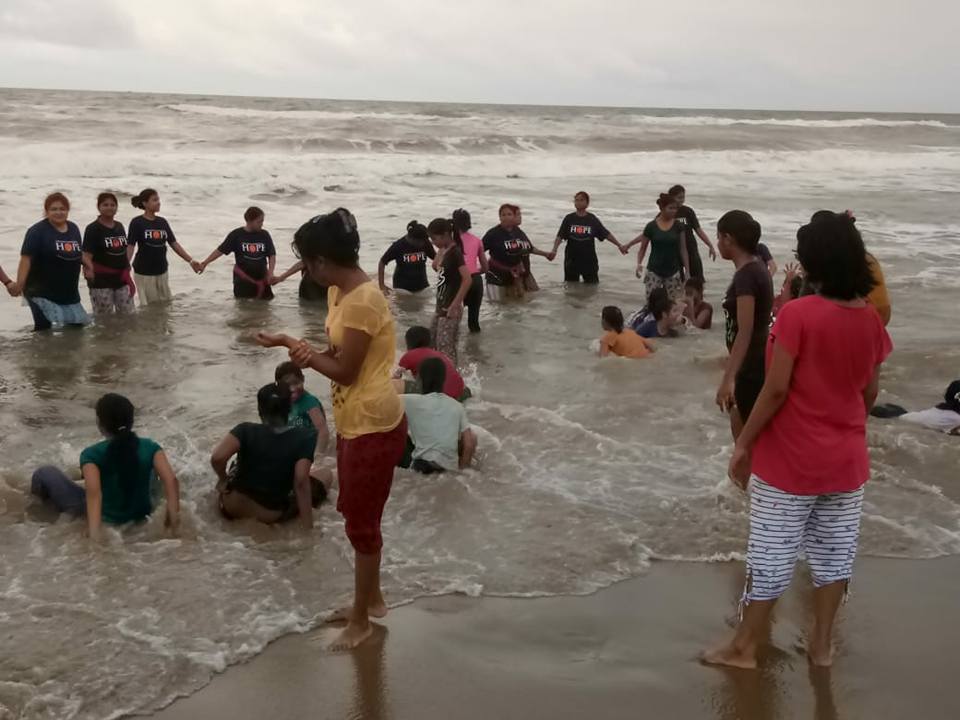 Ashar Alo Excursion
Our children from Ashar Alo had a great time enjoying in Puri as they went for their annual excursion this year.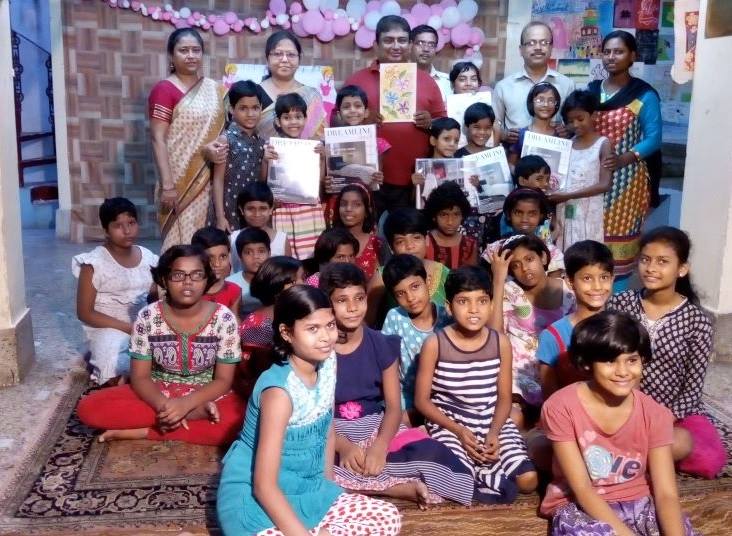 Event by PDP Group
The PDP Group, one of our major CSR partners spent a fun–filled day at the Kasba Girls Home as they visited the home to donate new bedding items and chocolates to the children.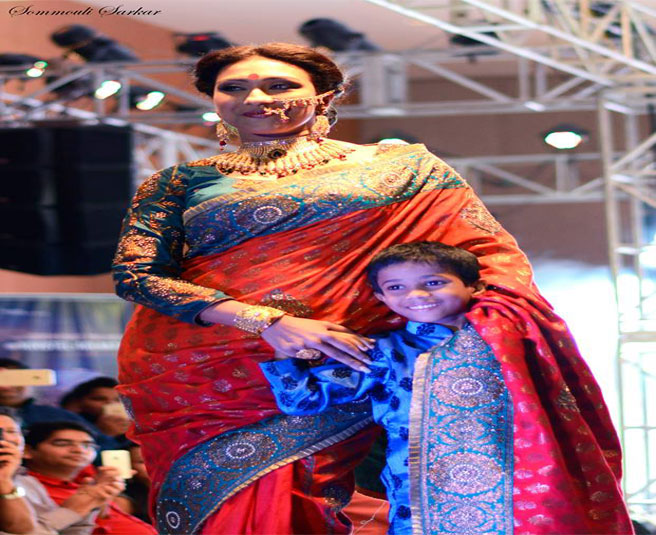 Career Counselling at Muktangan Centre
A career guidance counselling session was conducted by our Muktangan project in collaboration with CESC ltd. 86 students who appeared for the Madhyamik examinations 2018 from the Budge Budge and Titagarh centres attended the session, conducted by Mr.Amitabha Gupta, Assistant Professor of the Swami Vivekananda Group of Institutes.The session was very fruitful and received coverage in a Hindi daily 'Sanmarg'.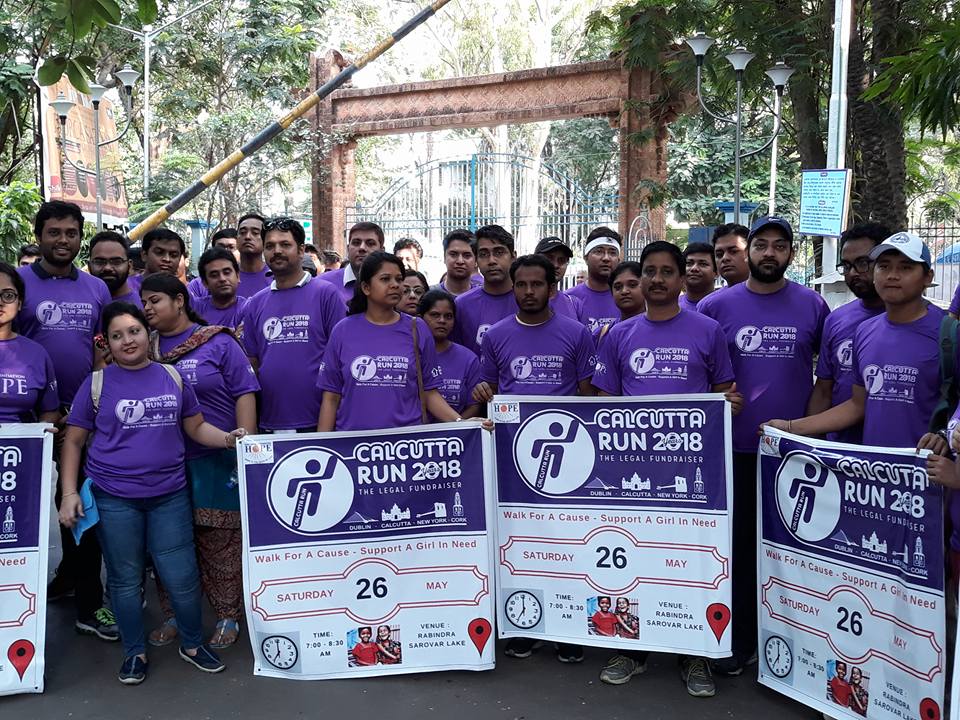 Calcutta Run - Walk for a Cause
Calcutta Run - Calcutta Run-Walk for a Cause (Kolkata edition) was held on 26th may, Saturday from 7 am onwards at the Rabindra Sarobar Lake. It was a great success, as various participants from corporates and other altruistic individuals voluntarily came forward and walked for the cause concerning the safety and prevention of violence against girl child. Our overseas director Ms. Jenny Browne and Ms. Geeta Venkadakrishnan (Director, Hope Kolkata Foundation were also present for the event.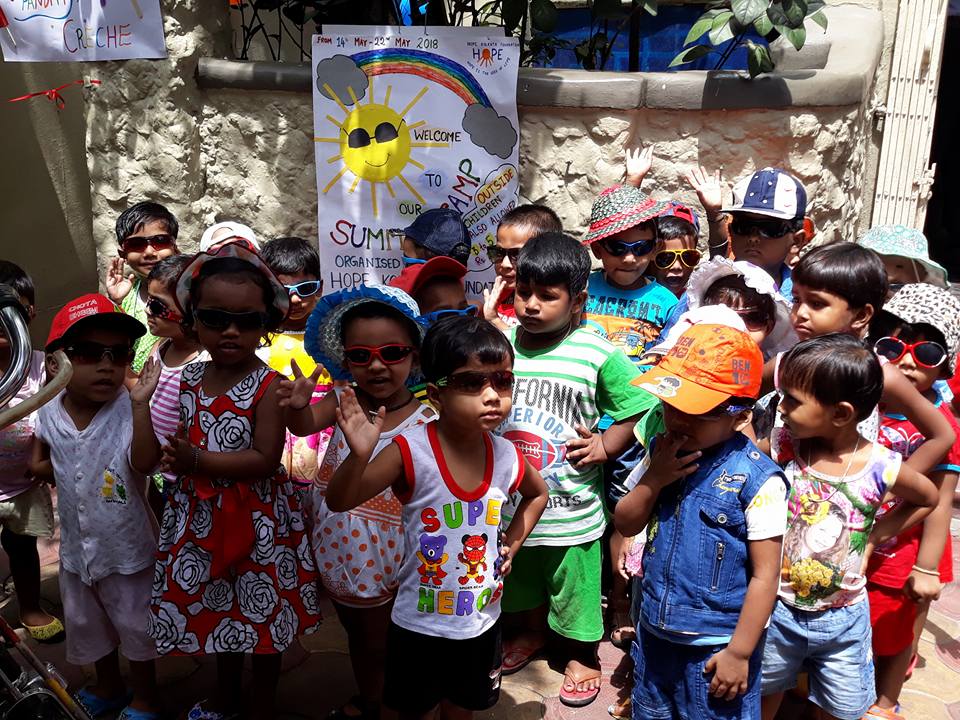 Summer Camp
A summer camp was organised for our children at the crèche and they indulged in a number of fun activities like story telling sessions, swimming etc.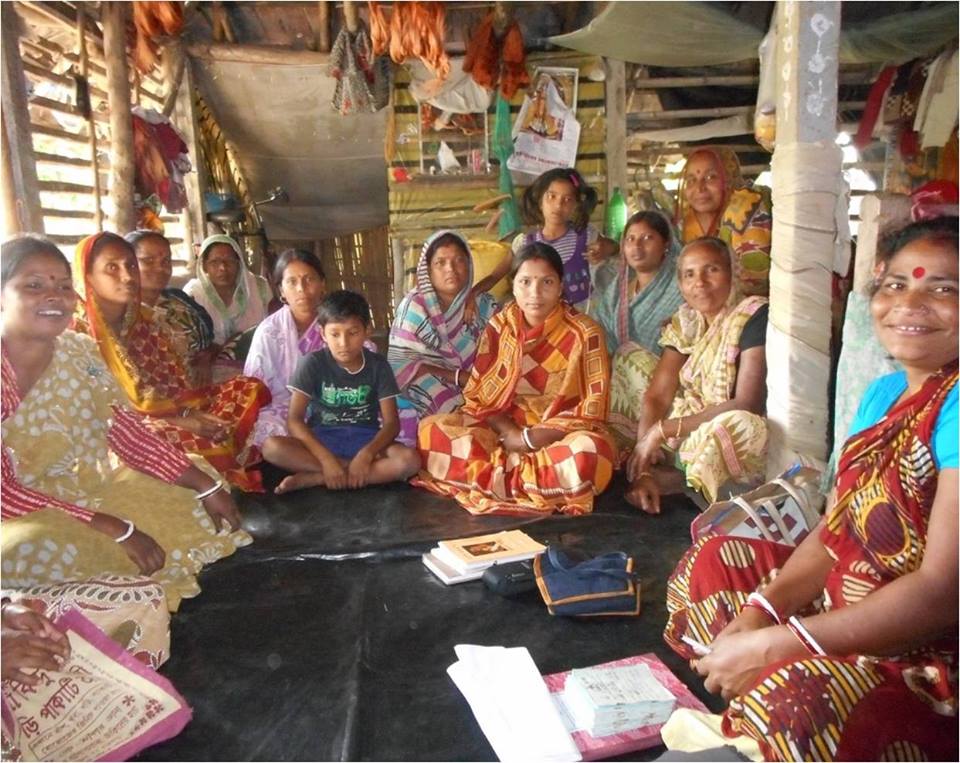 HCWS with Hope
HCWS and HOPE have been working together since 2006 protecting women and children from trafficking. West Bengal has a very high rate of trafficking because it borders with many other countries. In spite of this, together we have rescued 130 victims who were trafficked and are now living their life just like before. Our work still continues as we reach out to people from vulnerable communities and trafficking prone areas through awareness meetings, setting up watch groups, making people knowledgeable about trafficking and supporting rescued victims.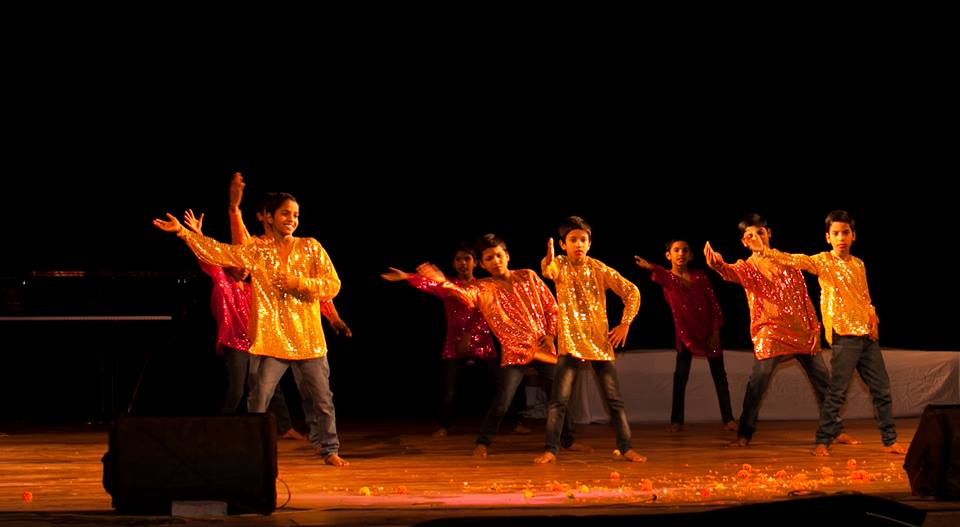 Participation at Hathor Health Fair 2017
Our children performed at Hathor Health Fair by Kolkata Classics Club on 22nd March 2017. It was a concert with 4 international musicians - pianist, Jennifer Heemstra, violinist, Wendy Case, violist, Kirsten Docter & cellist, Amir Eldan. Bickram Ghosh, on tabla was a special guest at the event.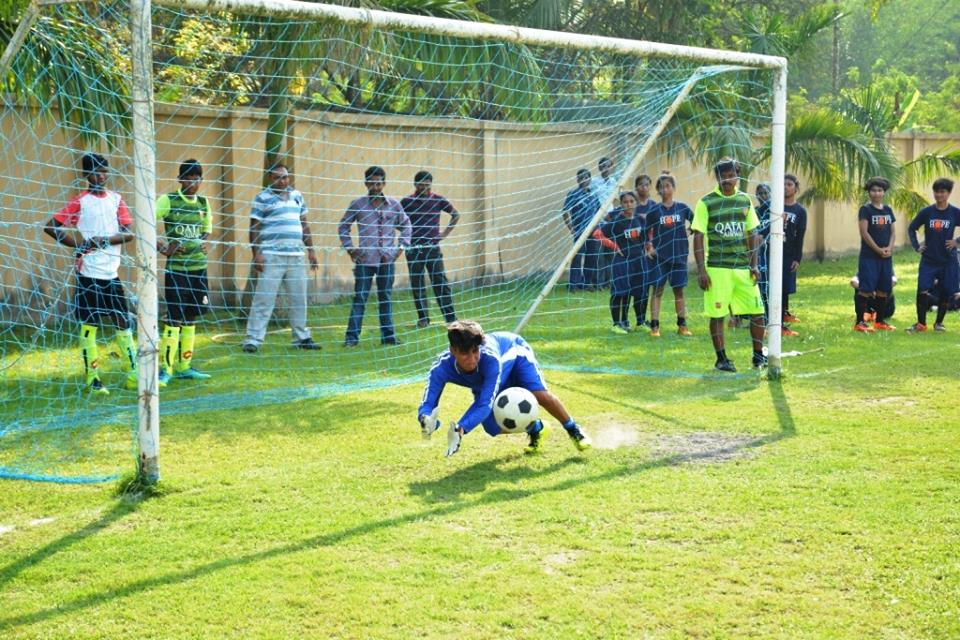 Hope Soccer Aid 2017
Hope Soccer Aid - the second edition was another benchmark event for The Hope Foundation India this year. We organized the tournament at Mount Litera Zee School Howrah. The school immensely helped us to organize the series of matches between our protection home children (girls and boys) and the Irish kids. While the guest teams won the tournament, they gifted the trophy to the runner-up teams, as a token of appreciation for the tough challenge. We would like to thank Mr. Chiranjeet Siani, MD of Siani Group, Mr. Moses, Principal of the school, Mr. Suman Ghosh, Administrator, Ms. Pubali Bhattacharya , academic coordinator, RightFlorist - our felicitation partner, Mr. Biswajit Mitra and Mr. Anand Agarwal for helping us organize the event. Also, the support staff's contribution to help us run the tournament is praiseworthy.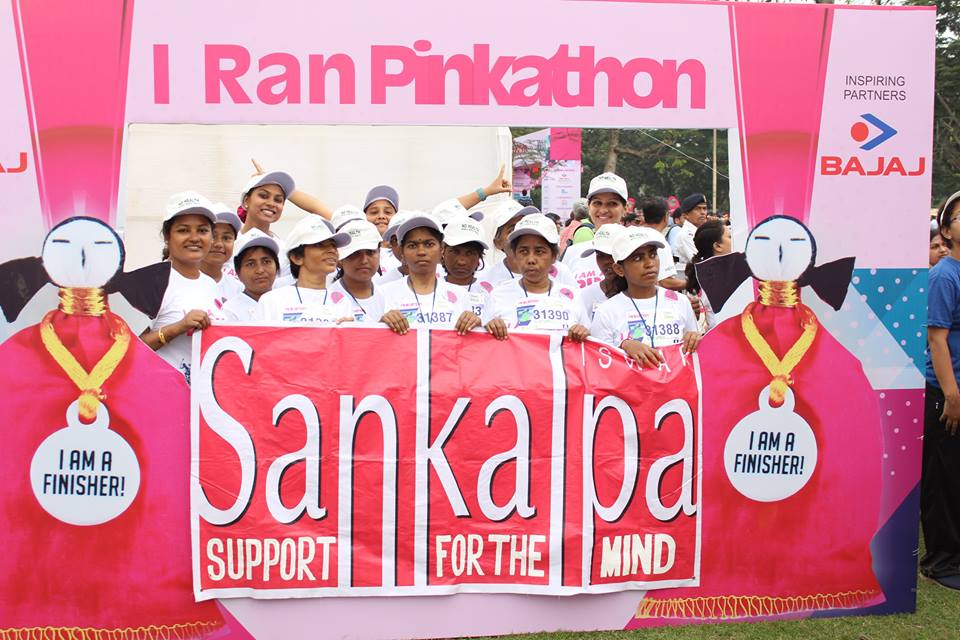 Participation at Pinkathon
Iswar Sankalpa was proudly represented by 12 women in Kolkata's first Pinkathon! "Today, we walk together for health, for mental well-being, for the undying spirit of womanhood, which never falters....."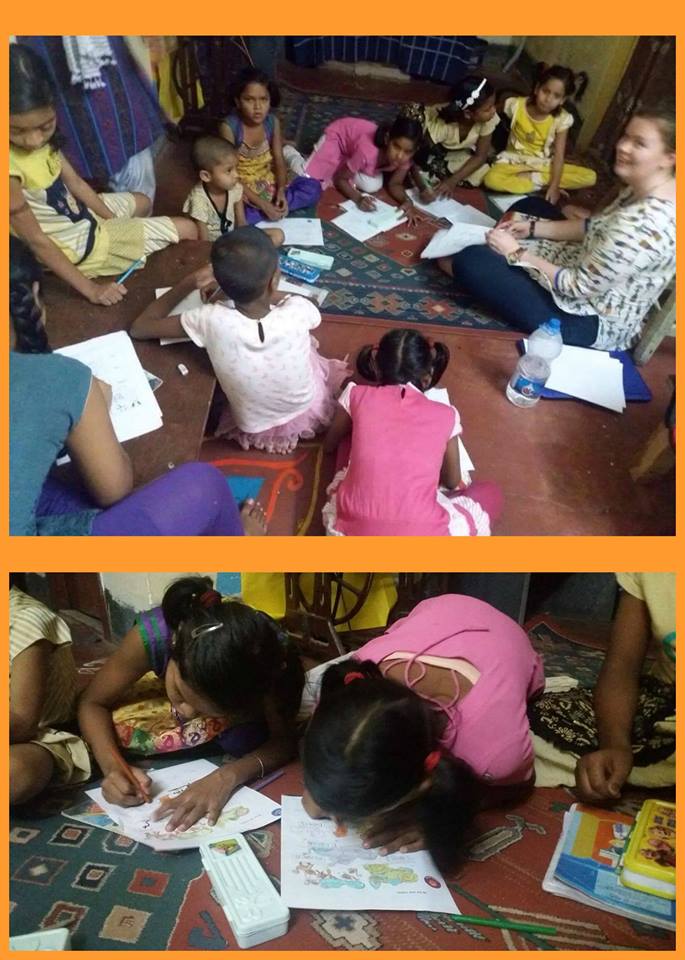 English classes with Irish volunteers
Behala Keertika girls are busy learning English with one of our Irish volunteers Sive, who is half way through her 12 months of volunteering with us. Keertika girls thoroughly enjoy their English class with Sive as it is full of activities and lots of games to end the lesson after all their hard work and dedication.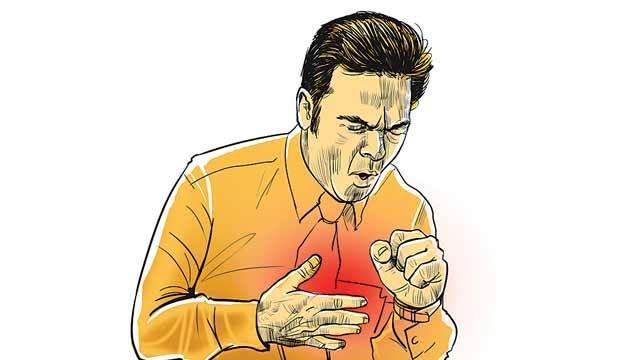 World Tuberculosis Day
Tuberculosis is one of India's greatest health challenges. Kolkata is India's third largest city with 14.1 million population (as per 2011 Census report) As per 2016 TB report, Kolkata reported only 679 TB cases to Revised National Tuberculosis Control Program (RNTCP) from the 5281 registered private facilities. The lack of involvement of the private sector is a key contributor to under performance in TB outcomes, such as case detection and treatment success rates As per the World Health Organization (WHO) 2016, Global Tuberculosis report, every minute one person dies of TB in India.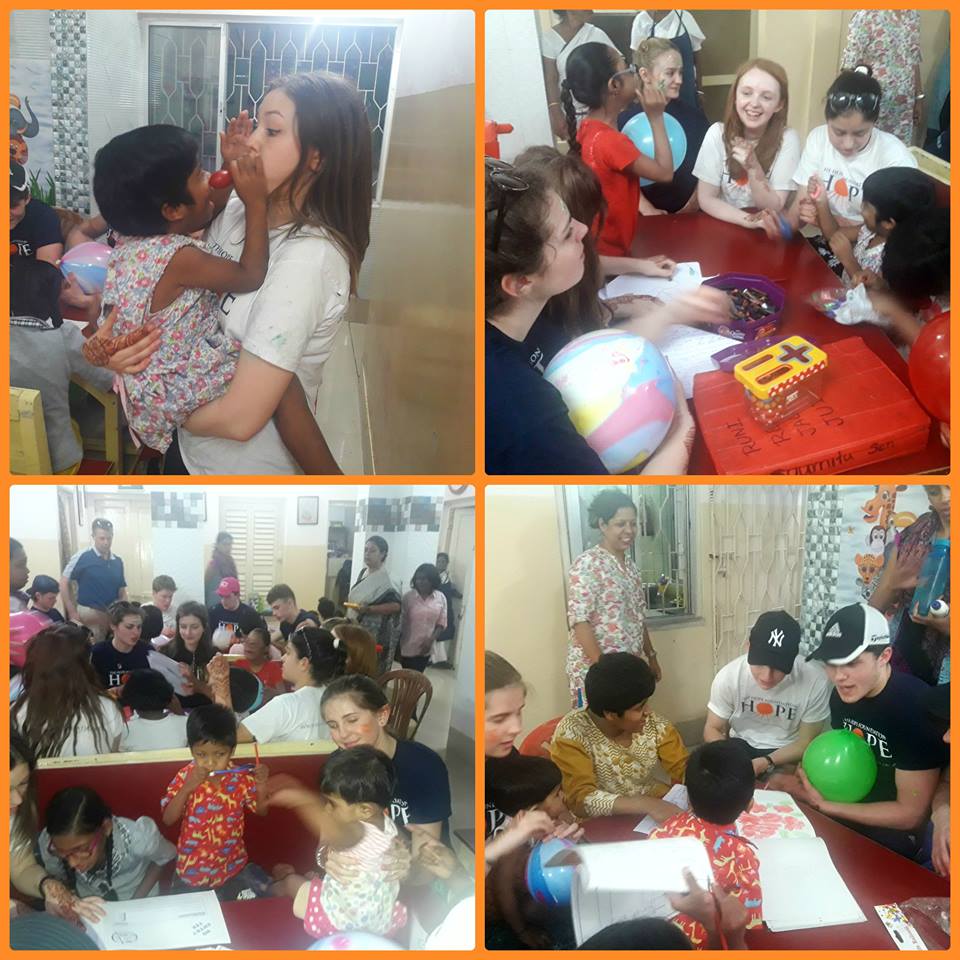 Irish students visit SICW
Students from Irish schools Clongowes Wood College and Newtown School visited SICW, where they had great fun playing games and singing songs!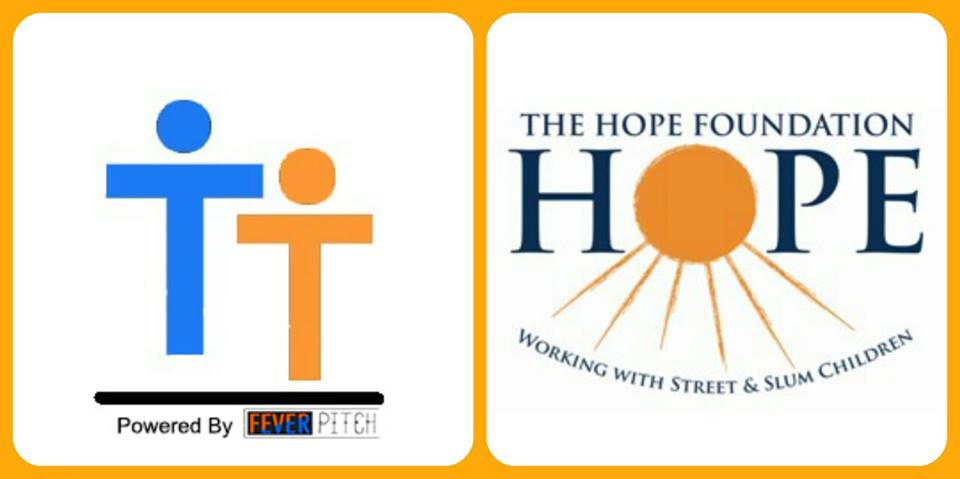 Hope Kolkata Foundation with Teach Today
Teach Today is a community of students, dedicated to empowering the youth by educating them. They have inducted 10 young students to a program (5 boys and 5 girls) helping them provide private sessions on interest/goal oriented teaching. Their faculty consists of the community members offering the students to be part of this innovative teacher-student relationship.Together through respect, humility, and teamwork they strive to achieve sustainability, eliminate societal stereotypes and achieve excellence.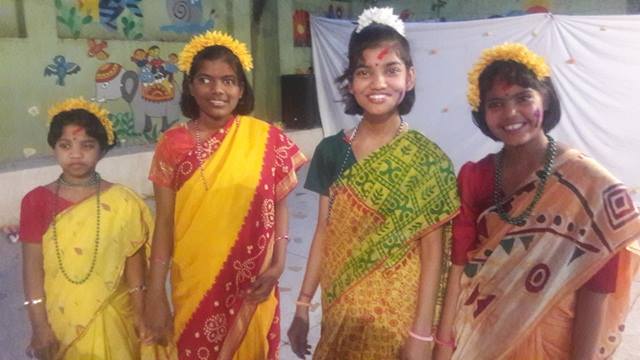 Holi with SICW and Behala Kreetika
Holi brought great joy and happiness to the children of SICW and Behala Keertika as they played with lots of vibrant colours! One of their favourite celebrations! The children also celebrated holi by singing songs and dancing!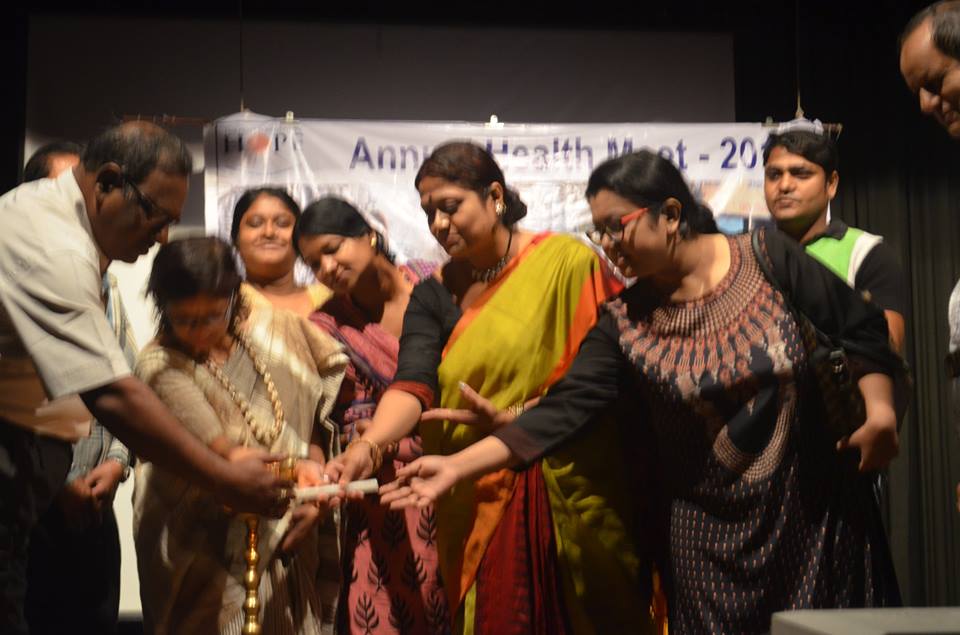 Annual Health Meet by PBKOJP
PBKOJP organised the Annual Health Meet in Jogesh Mime Academy which was attended by Community Health Volunteers, Community Environment Volunteers, Community Video Unit, Paulami De Sarkar, Programme Director of The Hope Foundation, Dr. K.K. Mal, Assistant Superintendent of Sambhu Nath Pandit Hospital, Dr. Bharati Maitra, Medical Officer of KMC Maternity Home-Khidderpore, Ms. Shamima Rehan Khan, KMC Ward Councilor-77, Principals & State school Teachers of CPC Remount Road Institution, Kalighat High School, Kalighat Primary School, South Calcutta Girls' Primary School, Ramanika Nandy, Program Support Officer & Mr. Kumar Sourav, MIS Officer from The Hope Foundation. Many health issues were discussed on health problems identified and how they were treated and solved. Effective drama sketches were performed such as encouraging mothers to complete post natal care, along with many other health issues. Now we look ahead with future strategies for our health program to sustain the UN Global Goals.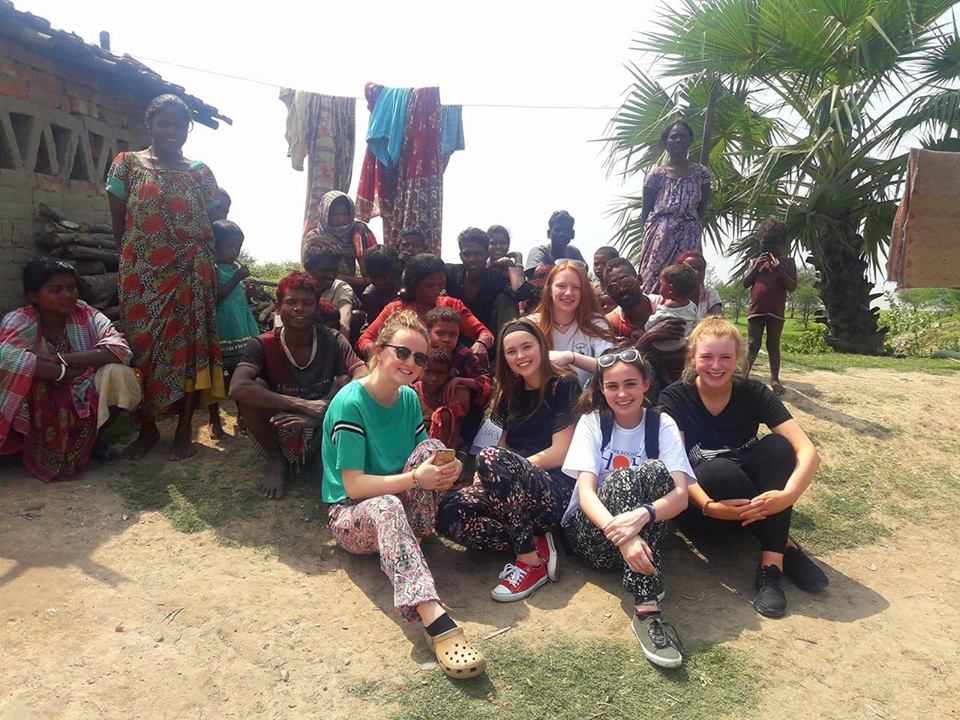 Alexandra College visits a village
Samiran Mallik, CEO of Hope Hospital took the kids from Alexandra College to his native home. The trip was complete with a delicious home cooked lunch, seeing the animals donated by gifts of hope, visit a local brick kiln and enjoying the beautiful, peaceful surroundings. Such a unique experience enjoyed by all.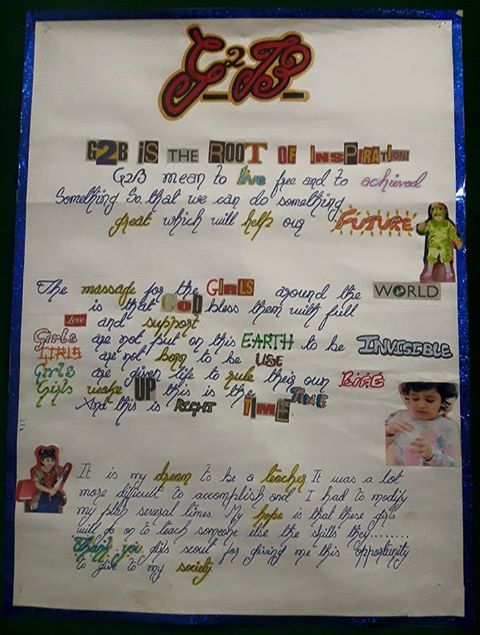 Be Bold For Change
Words of inspiration and motivation from our empowered strong intelligent girls from Girl2Be Home!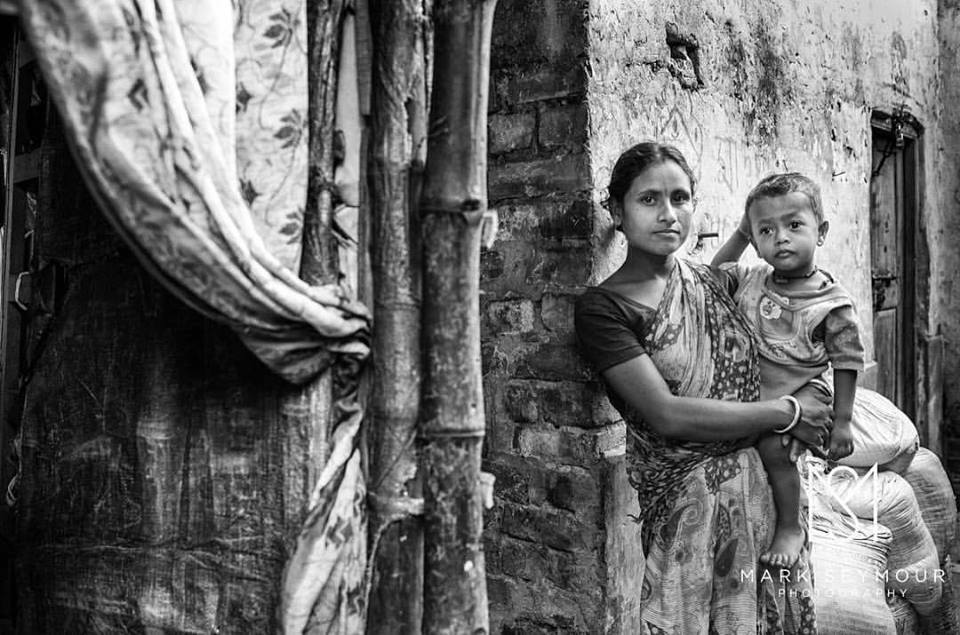 International Women's Day 2017 roars to Be Bold For Change.
This year The Hope Foundation India celebrated having reached out to 204864 women beneficiaries, through our various projects, running in North and South areas of Kolkata and Howrah region. Following would be a quick break-up of our reach out through various projects - Health - 203175 adolescent and elder women, covering 18 communities Education (drop out kids) - 211 girls in 15 schools Muktangan (slow learners) - 1001 girls in 15 schools Protection Home (rescue and shelter) - 224 girls Creche - 72 girls in 4 pre-primary learning centers Education Sponsorship - 153 girls Hope Cafe - 8 female trainees Tailoring Unit - 20 female trainees Income Generation Unit - 218 women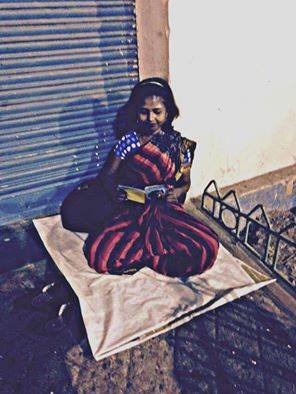 Right to Read
"Extremists have shown what frightens them the most: a girl with a book"- Malala Yousafzai, Nobel prize winner. "This girl knows the extreme value of a book. We came across her on The Hope Foundation Ambulance-run, through the most deprived and perilous circumstances that children have to exist. At midnight she was reading with the aid of a street light, without a roof over her head, without the security of a family. We continue to do tireless work in effecting change in a city of abysmal poverty. One of the most striking elements of this is the attitude of adversity that the poor exude. It is not they who are humble but we are humbled by them." - Teacher, Jude O'Flynn Murphy.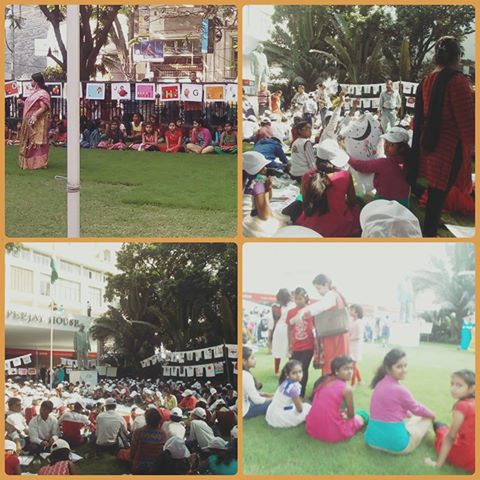 Behala Kreetika at Apeejay
Behala Keertika girls recently participated in a painting workshop which was organized by Apeejay School. The girls thoroughly enjoyed the fun day out and designed many beautiful t-shirts!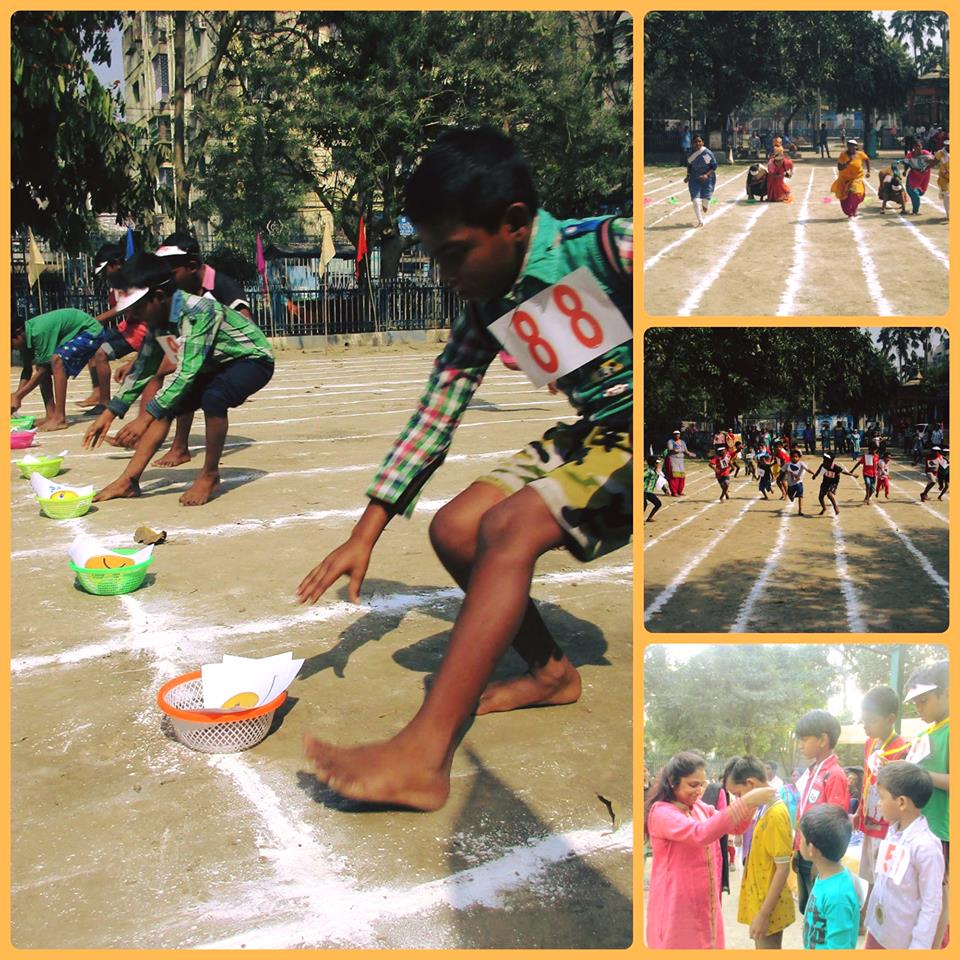 Sports day at Iswar Sankalpa
Check out some of the great action shots taken by Iswar Sankalpa of their recent sports day! It was a fun filled day!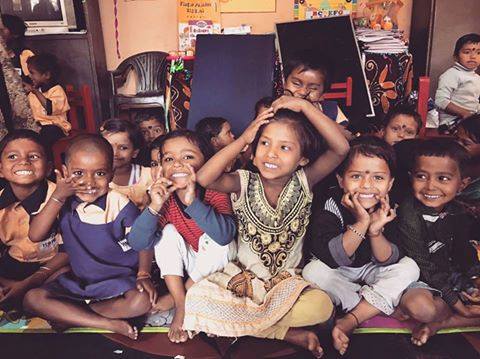 Success Story
Mita is the youngest of 8 in her family. At just 4 years old, Mita spent every day trying to survive by searching for recyclable waste with her family in one of Kolkata's biggest dumps. This is no way for any little child to live, it is simply unimaginable that a little girl like Mita would have to forage in a mountain of toxic waste and rubbish in the searing heat, searching for anything at all that might help to feed her and her family. Thanks to a local donor with whose support today, Mita's family has enrolled her in the HOPE crèche. She happily comes to school every day. Mita is one of many children whose lives are changed forever because of some of our valuable donors.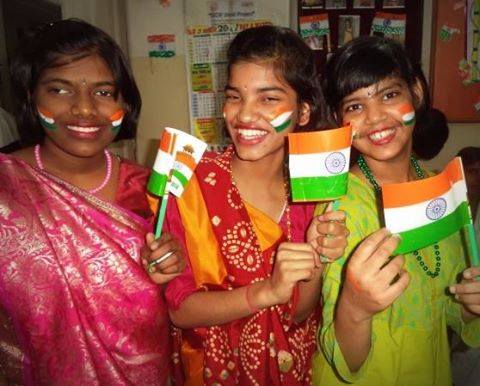 Zero Discrimination Day
Many mothers living in poverty face the fear of social stigma, especially if their child has special needs. Anita was 2 days old when she was rescued after being abandoned by her mother because she has Cerebral Palsy. Now 12 years old, Anita is a multi-talented and exuberant young girl who is receiving all the necessary support from HOPE to fulfill her true potential. She has a natural gift for singing and is a keen music lover, who won the Junior Academics Best Singer's prize from her school! Anita's artistic flair doesn't stop there; she creates beautiful drawings and performs entertaining dance routines elegantly on stage at her school regularly, which continues to increase her self-confidence. Having a caring and reliable nature, Anita has the responsibility of class monitor and is very focused on her studies.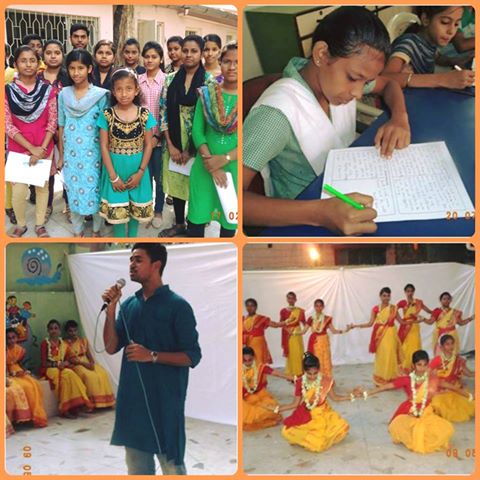 SICW Outreach Sponsorship
73 children are currently supported under our SICW Outreach Sponsorship Programme which provides education, nutrition, medical support, and counseling. We would like to wish the best of luck and success to 8 college students who recently graduated with degrees in Science and Commerce. Huge thanks to their sponsors for supporting these young people become college graduates, who are now ready to pursue their dream job.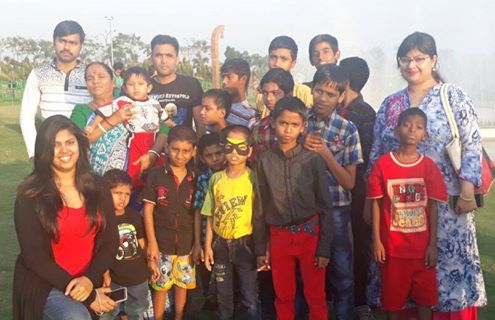 Visit to Eco Park
Kids from five of our protection homes were at Eco Park for unlimited fun and entertainment. The banking giant planned the entire visit and executed the day out, with utmost care - they picked up the children in comfy buses and on reaching the venue, the kids were welcomed with a refreshing drink. Next, a light and sound show was screened and a football match was arranged between the kids and the employees. Post this, they distributed yummy refreshments. The eventful day came to an end by late evening, when the kids were dropped back to their respective homes. We thank the exuberant employees and the organisation for arranging such a well-planned outing for our kids.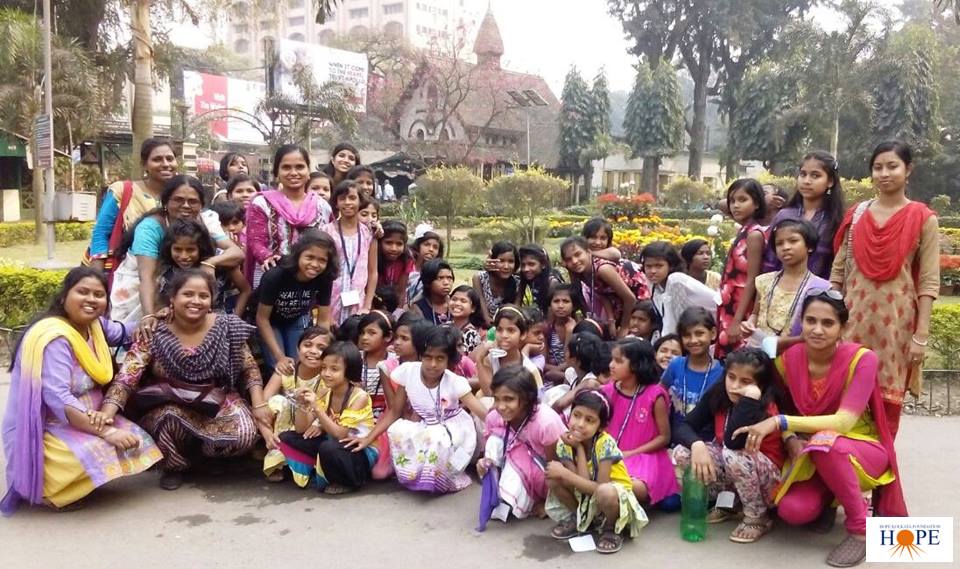 Visit to Zoological Garden
While winter is receding - The Hope Foundation India planned a visit to the zoological garden for our adolescent kids.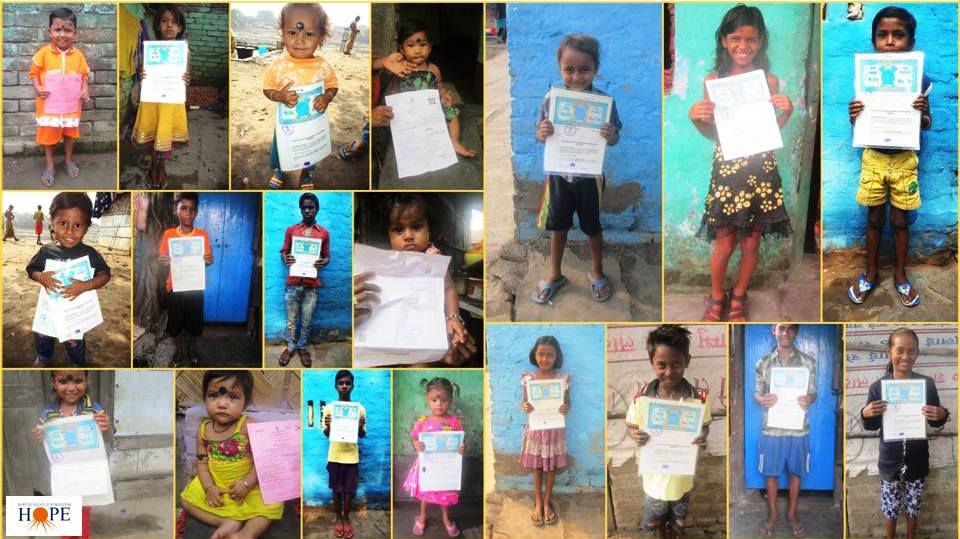 Hope's work on birth certificate at Belgachia, Bhagar
Belgachia Bhagar is home to approximately 35,000 residents. If we narrow down our purview, each ward of the area accommodates 340 families. These residents are immigrants from Bihar and UP who fail to have any identity proof. Considering this as one of the major hurdles for these kids to get an admission in formal school - The Hope Foundation India started sensitizing the residents on the importance of having a birth certificate. After the relentless effort of our employees for a period of 10 months, we are happy to announce that 141 kids out of 200 identified have a got their birth certificate. Also few of these have started going to school.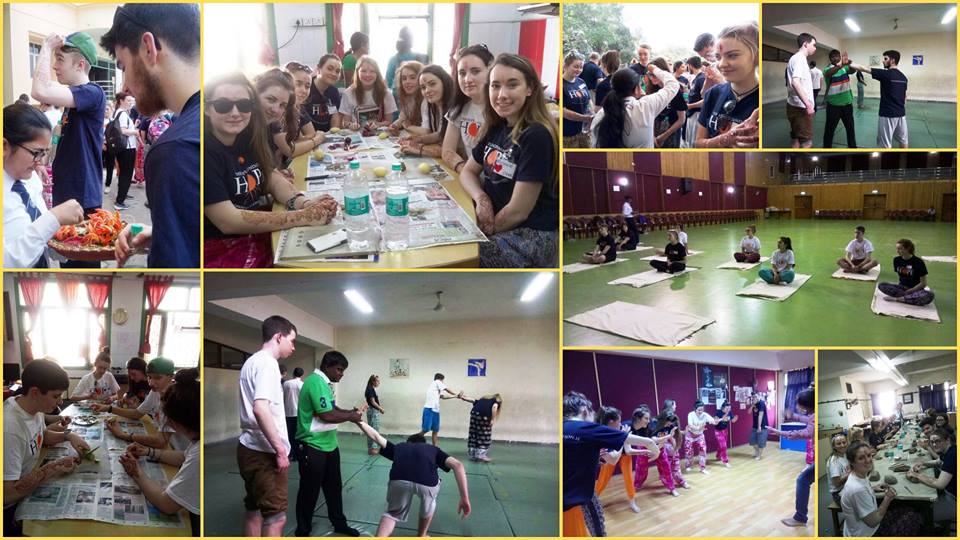 School Immersion at The Heritage School
6 schools from Ireland - Mount Mercy College Cork, Ballincollig Community School, Rockwell College Transition Year, Clonmel CBS, St. Angela's College and Christ King Secondary School were in The Heritage School for a school immersion program yesterday. The school hosted a wide range of activities for the kids. Sessions on martial arts, mime, pottery, recycling, textile, yoga, Indian instrumental (Sarod) and cookery was organized by the skilled teachers for the Irish students. We thank the principal, coordinators, and teachers for hosting the program at their school.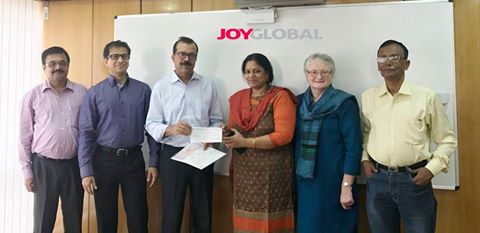 Joy Global with Hope
Mr. Manish Ranjan Das, Finance Head and Mr. Shib Bhowmick CEO of Joy Global Inc. handed over the cheque of 98 lakhs 58 thousand to Geeta Venkadakrishnan, Director of The Hope Foundation India and Jenny Browne, The Hope Foundation. The money would be invested in various projects Hope runs with their support.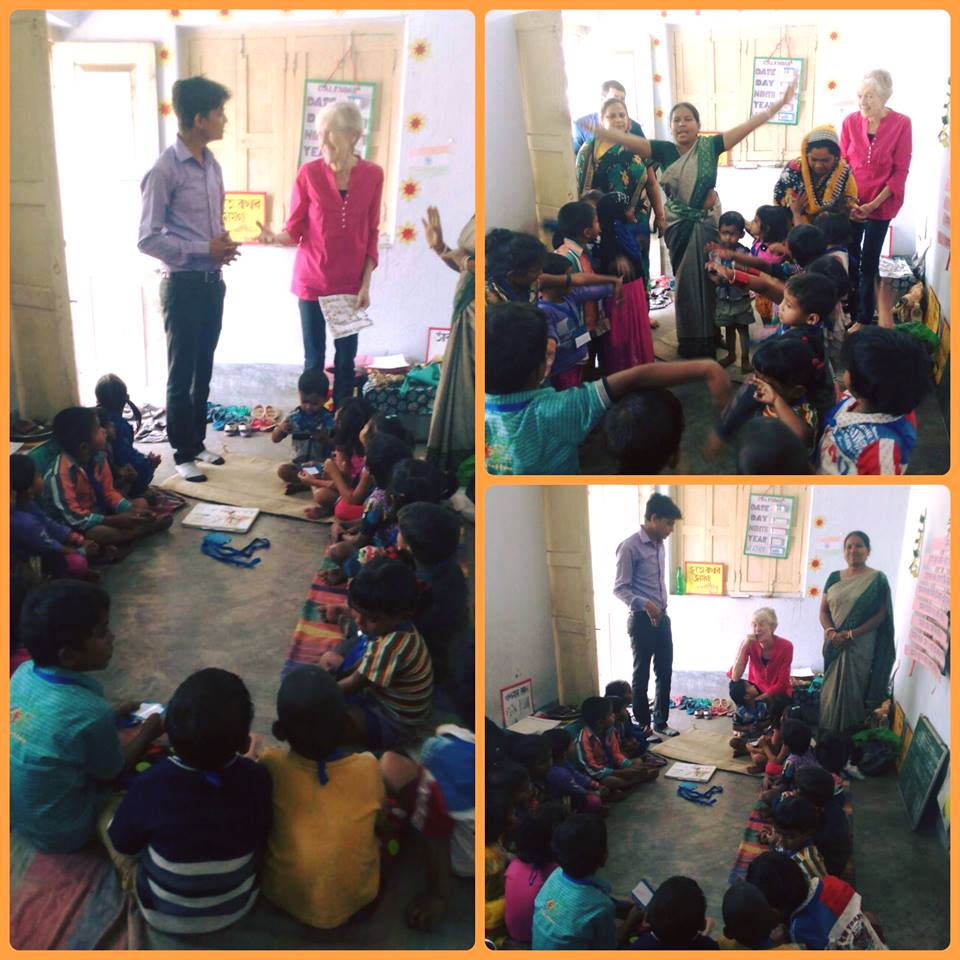 Overseas Assistant Director visits ICDS
Our assistant overseas director, Annmarie Murray, recently visited Ramnagar ICDS in one of PBKOJP's operational areas. ICDS centers provide nutrition, preschool education and primary healthcare to children under the age of 6 and their mothers to reduce and prevent mortality, malnutrition, and children dropping out from school.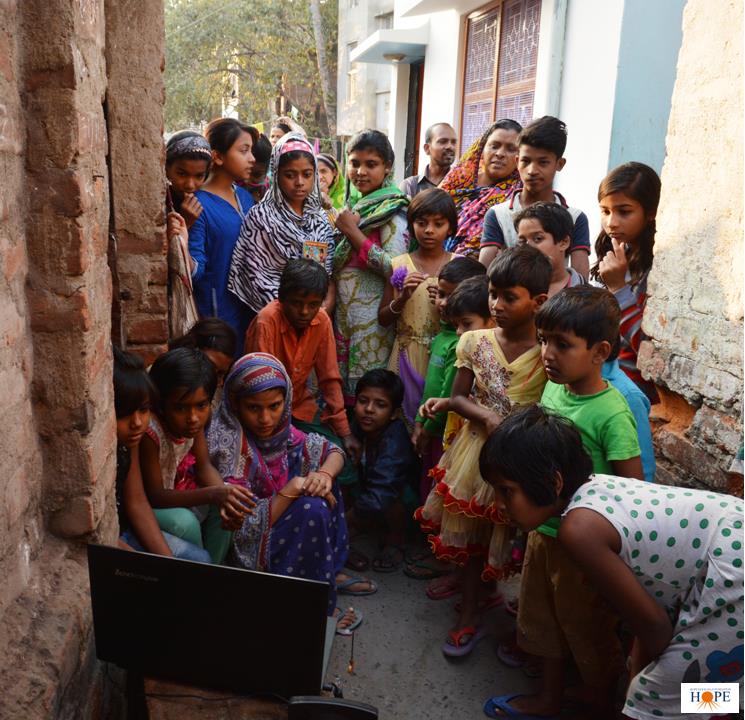 Community Video Unit on Dengue
Dengue fever is a mosquito-borne tropical disease caused by the dengue virus. The virus is much likely to spread in local communities where hygiene and sanitation take the back seat. To help the residents staying in those areas, our Community Video Unit shot a documentary on the symptoms and effects of the disease. They are now screening the documentary to make people aware and at the same time educate them to take necessary precaution. The team has done the screening in 8 communities as of now and will be screening the same in 12 more fields by the end of March.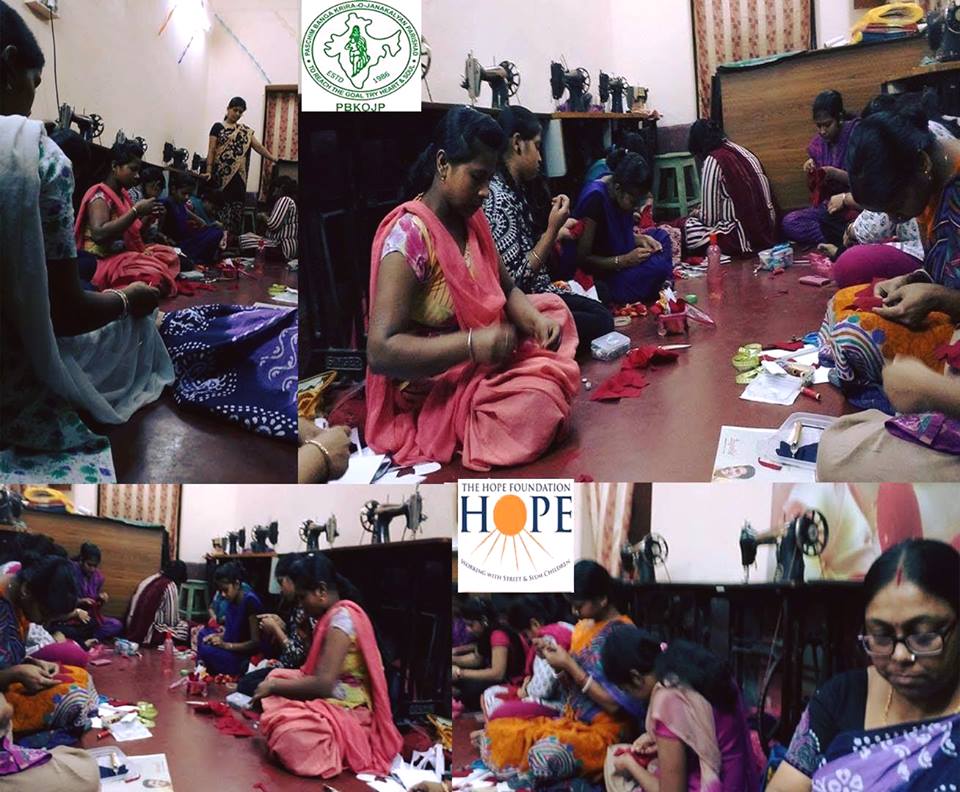 PBKOJP empowering women
HOPE and PBKOJP aim to empower women by developing their skills to find better livelihoods. Through the Vocational Training Unit, 20 women are learning tailoring skills and 10 women are developing their craft skills and are designing beautiful salwar, churidars, frocks and petticoats along with mehndi painting, embroidery, bag making and much more.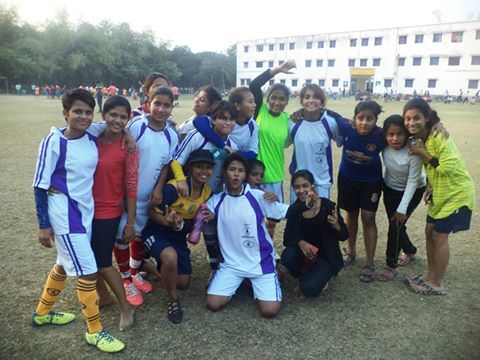 Football match with Vivekananda Sports Academy
Vivekananda Sports Academy, National Institute of Sports & Culture under Government of India invited five of our girls for a football match. The match was held in Nodia district and was a great exposure for our kids.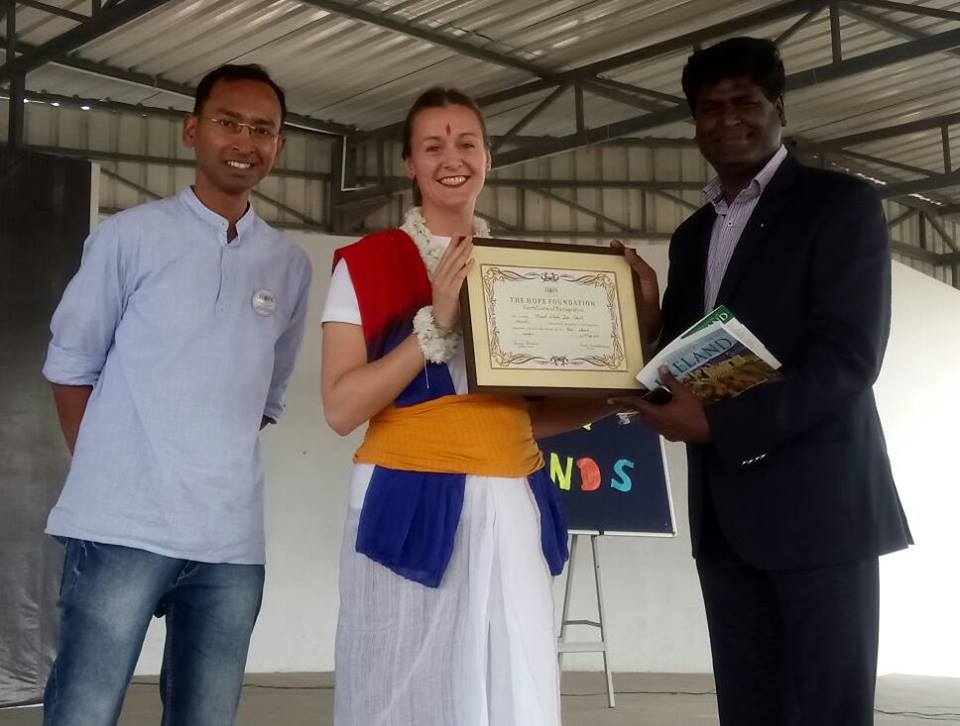 School Immersion with Mount Litera Zee School, Howrah
Students from Regina Mundi College and Our Lady's Secondary School Templemore visited Mount Litera Howrah for their school immersion program. The school hosted an amazing program giving the foreign students a platform to know all about Indian culture - starting from music, dance, painting, cooking, applying henna and lastly playing a friendly football match. We thank the school Principal and the coordinator for organising such an amazing cross-cultural program for the Irish students.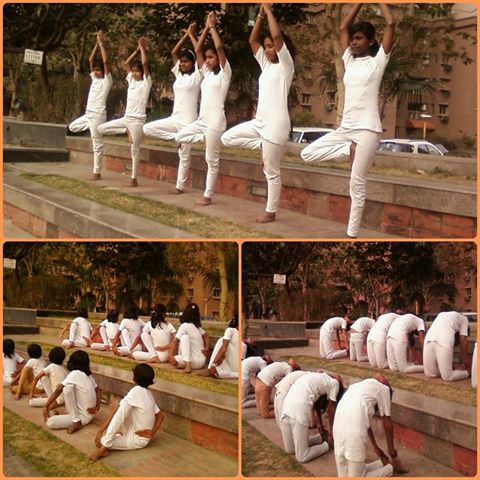 Yoga with Behala Kreetika
Behala Keertika girls make yoga look very easy! The girls love to practice yoga daily as they find it relaxing and a great way to stay fit! They practice many poses such as the lotus position, handstand, bridge pose and lots more!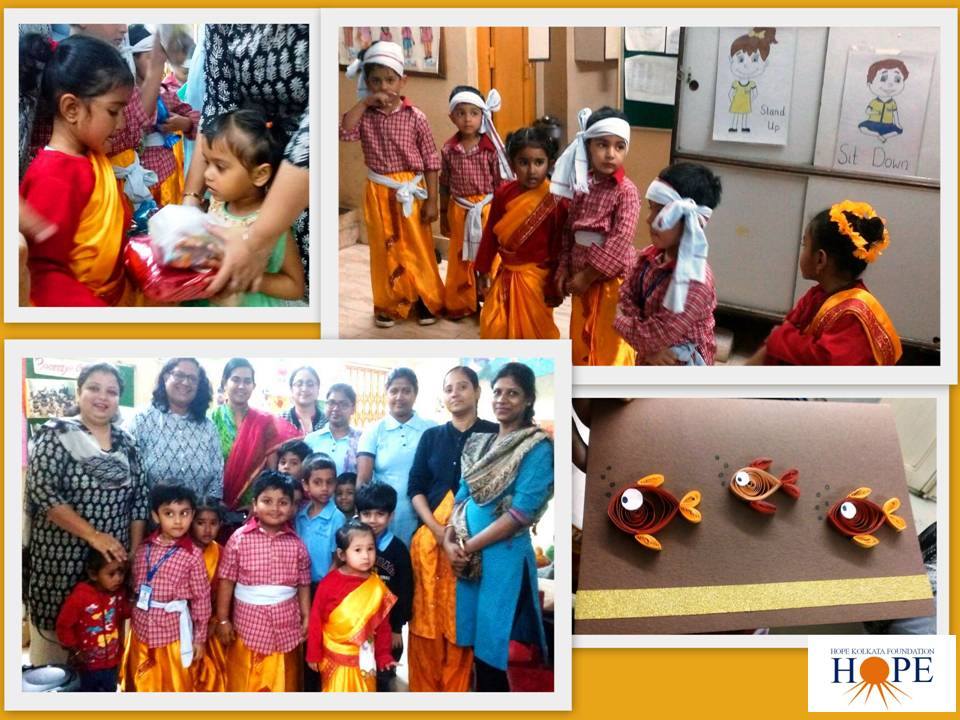 Bubble Blue at Hope
Toddlers from Bubble Blue came down to meet our tiny tots at Panditiya crèche on Valentine's Day. Kids danced, shared gifts and enjoyed the day.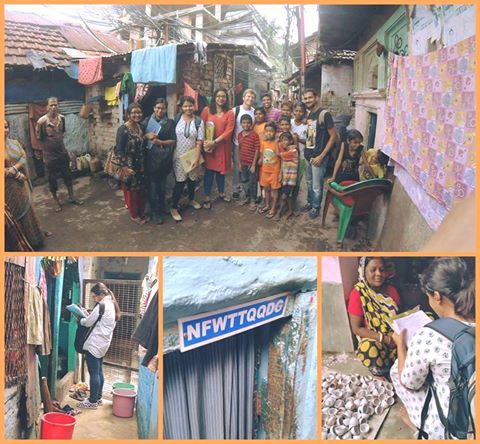 Addressing the Unaddressed (ATU)
Well done to Romeo Mondal (survey conductor and analyst), the ATU team, interns and volunteers who have addressed over 2000 homes since January!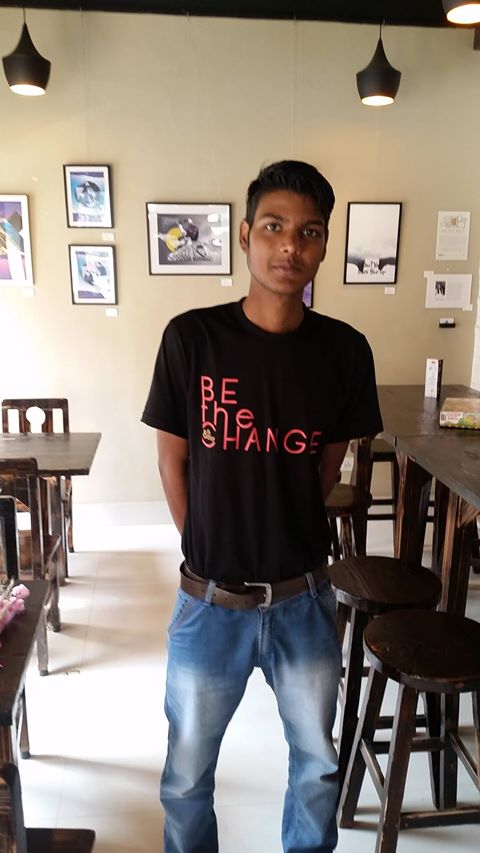 Hope Kolkata Foundation with 8th Day Cafe & Bakery
We are glad to announce that another trainee from Hope Kolkata Foundation - Café and Training Unit has been placed at 8th Day Cafe & Bakery. We wish him all the very best for future!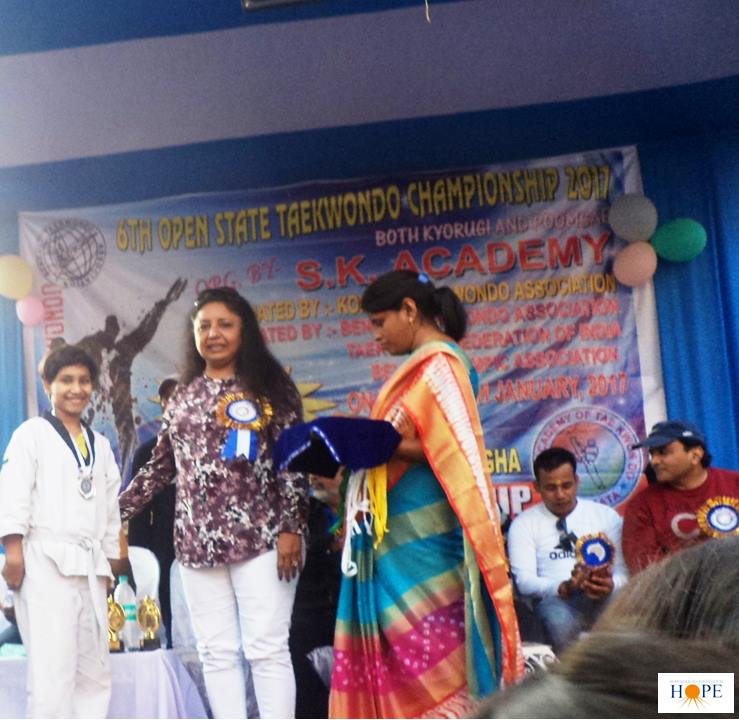 Hope's participation at 6th Open State Taekwondo Championship
Three of our girls participated in 6th Open State Taekwondo Championship, 2017 organized by S.K Academy of Taekwondo (Affiliated to Bengal Taekwondo Association, Bengal Olympic Association, and Taekwondo Federation of India.) We are glad to announce that one of them returned home with a silver medal.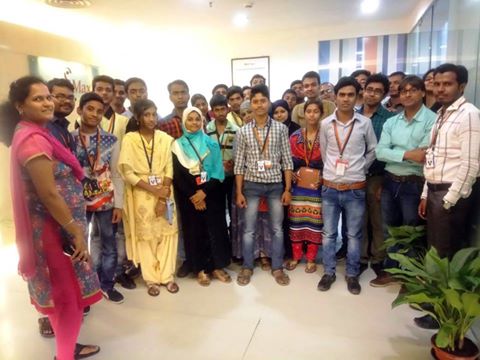 Exposure visit to Erevmax Technologies Pvt Ltd
The Hope Foundation India in collaboration with Erevmax Technologies Pvt Ltd, DLF Rajarhart conducted its second exposure visit. The employees from different sectors introduced the young adults on their work responsibilities - giving them a brief idea on how does the corporate world function. The session was very knowledgeable and indeed enriching.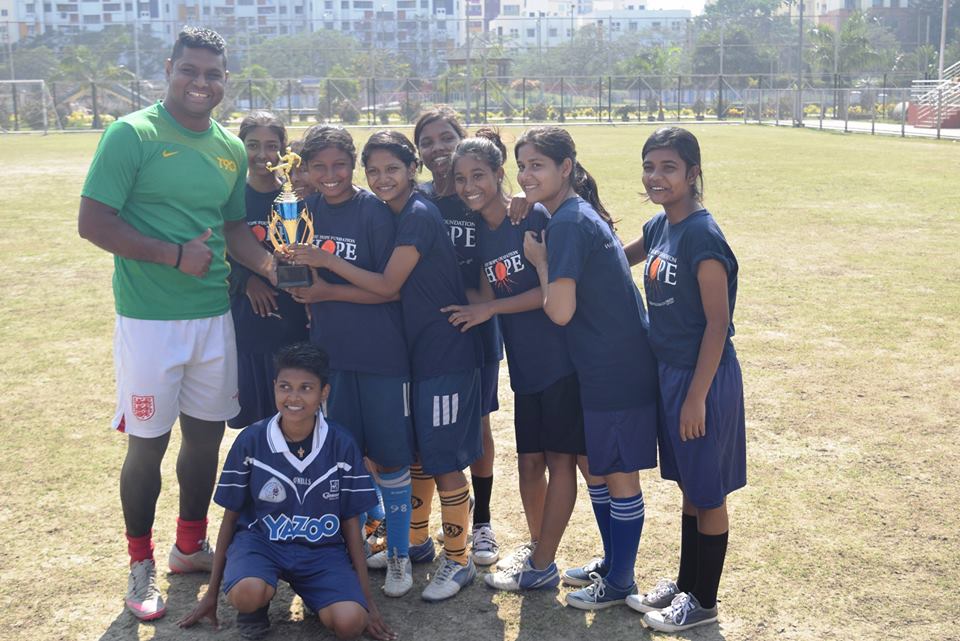 Hope Kolkata Foundation with Arsenal Bengal
Arsenal Bengal Fan's Club invited The Hope Foundation India's kids for a football tournament. Our kids participated and came back home with a runners-up trophy.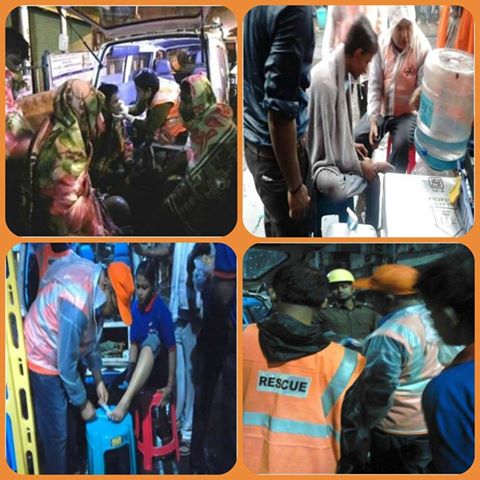 Emergency Response Unit by Hope
The Emergency Response Unit provided by HOPE and HIVE India is a unique service and the first of its kind in Kolkata. The ERU provides an immediate response to anyone who is at risk on the streets and slums, along with rescue work in major accidents and disasters. In the last 6 months, the ERU has rescued over 170 children and adults from the streets and slums and provided necessary care and treatment, and admitted many in hospitals for further treatment.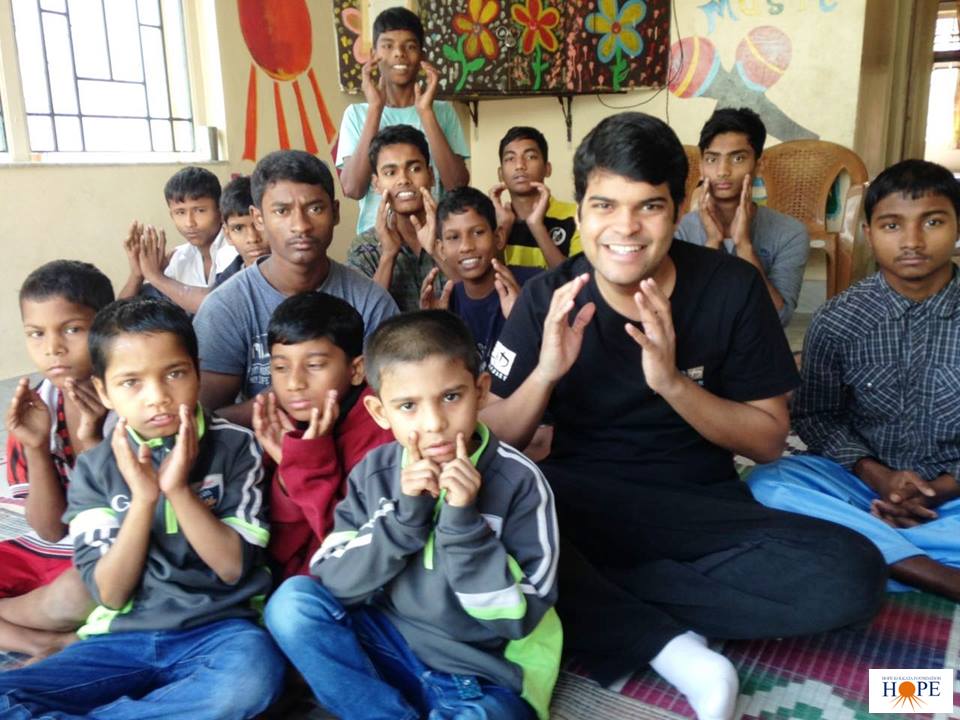 Krav Maga Global (KMG) India at Hope protection homes
Rhys Vaz, the trainer from Krav Maga Global (KMG) India conducted two sessions on self-defense for six of our protection homes.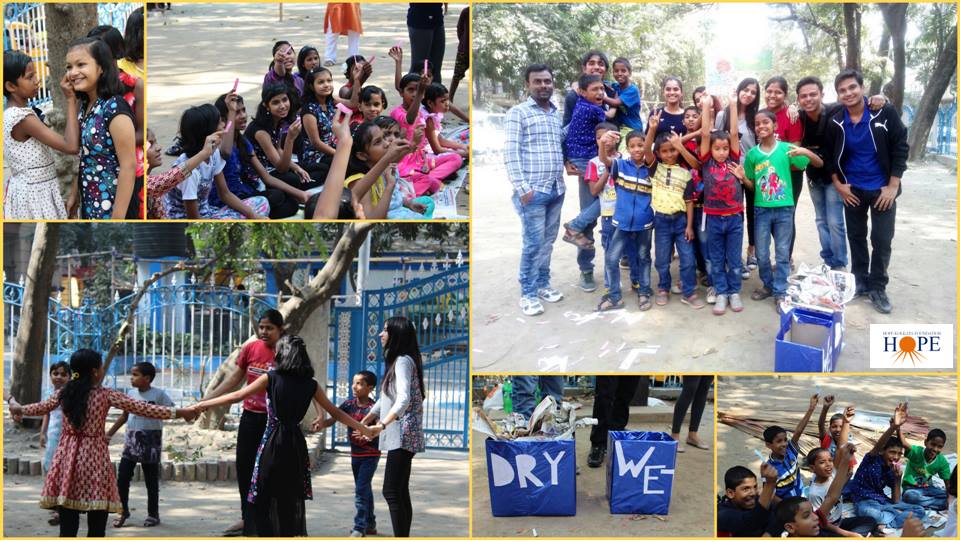 Hope with Dor
Dor Initiative conducted a sanitation workshop for our kids. The team from the initiative had a novel idea to engage with the kids and at the same time taught them the basic requirements to stay healthy. Kids also learned to segregate and dispose of wet and solid waste. We thank Dor Initiative for organising such an interactive sessions with the kids.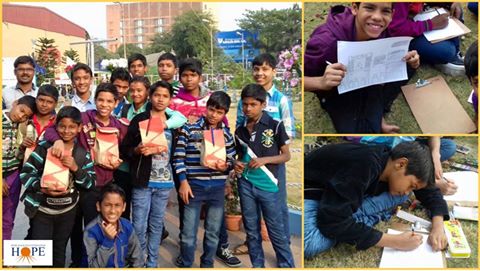 Hope kids at Kolkata Book Fair 2017
The Hope Foundation India was invited to participate in Book Lover's Cafe organised at 41st International Kolkata Book Fair 2017.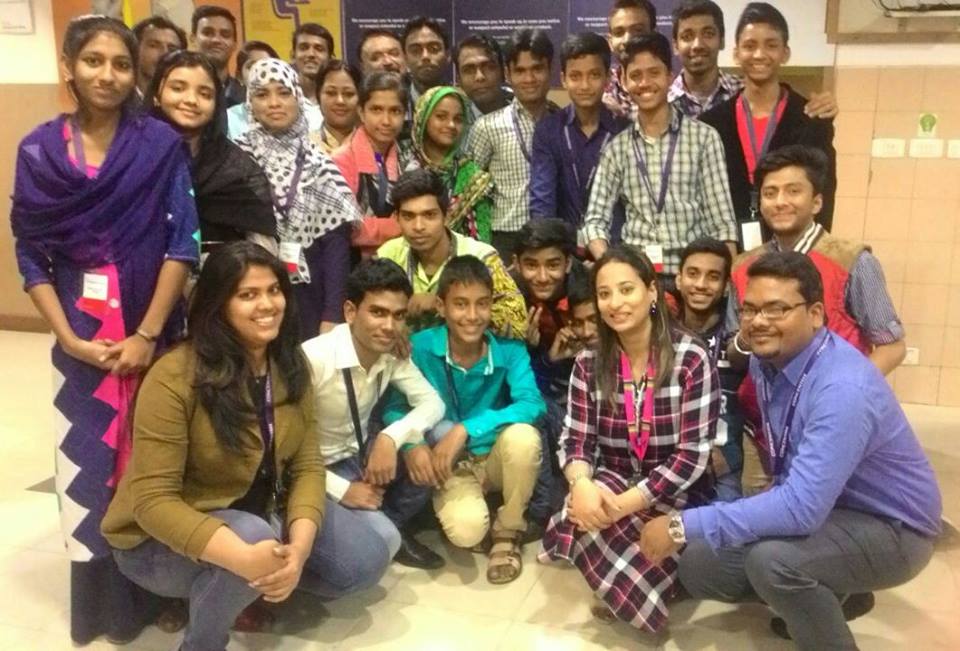 Exposure visit to Concentrix
Young trainees of Hope Skill Unit, Howrah were taken to the IT giant - Concentrix India, Kolkata for an exposure visit, aimed at helping the trainees gain an in-depth knowledge about the various aspects of working in a corporate organization. Our learners were enlightened on various business processes by their respective leaders and then taken around the facility to see how different departments work in collaboration with each other. The enthusiastic candidates even enquired how they could be associated with the industry in future. Much thanks to Concentrix India for all the support!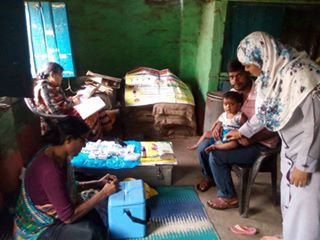 Monthly immunization by PBKOJP
Through regular camps one of our partner's PBKOJP, Community Health volunteers conducted monthly immunization camp at target Anganwadi Centres, in collaboration with KMC Health Department & ICDS.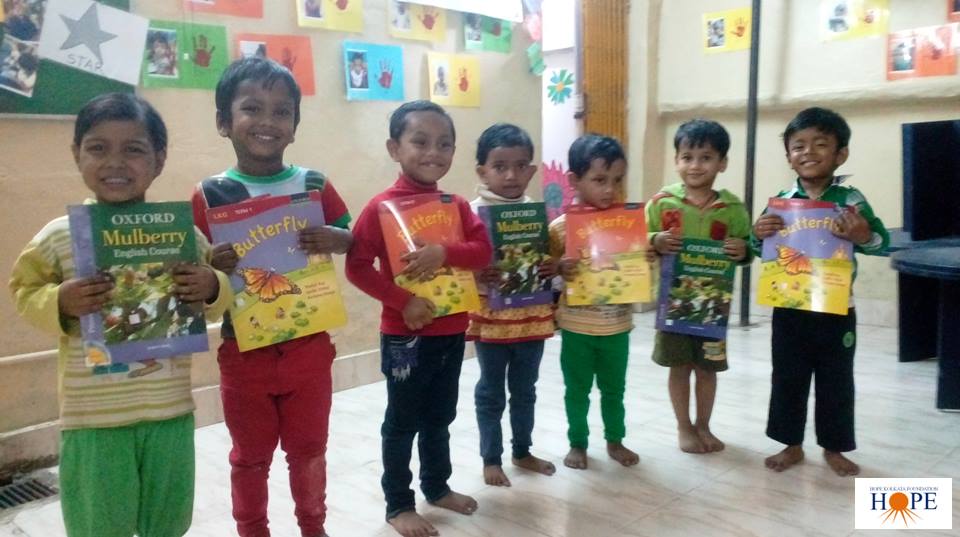 Oxford University Press India with Hope
4 creches of 2 to 5 years old children running under Hope Kolkata Foundation received 72 activity and story books from Oxford University Press India. The children were very happy to receive new books.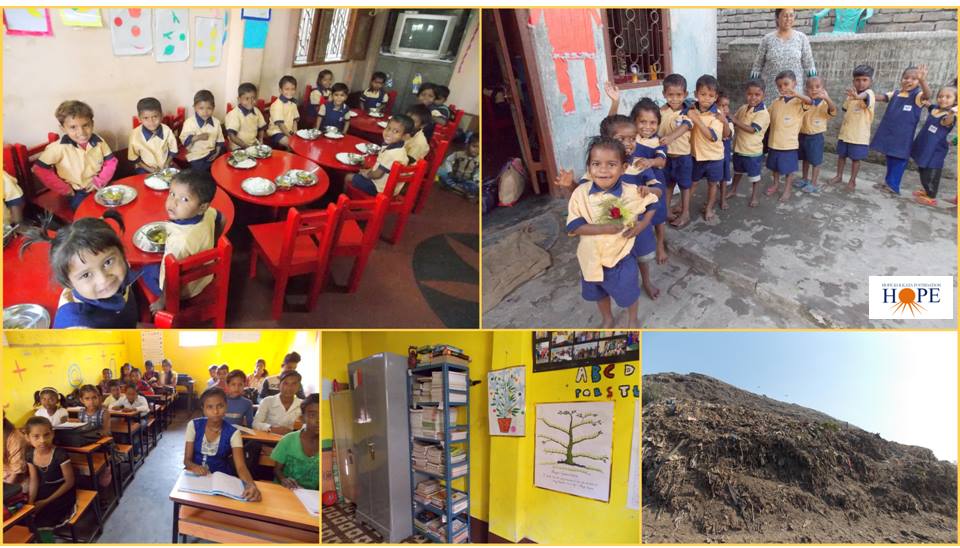 Creche at Bhagar landfill
The Bhagar landfill is home to around 400 families, who survive amidst rats, pigs, and waste. While the adults residing in the area take up segregating rags as their vocation - their children eventually land up reflecting their footprints. Having the kids there are first generation learners, The Hope Foundation India runs a creche there for 3-6 years old children. It's a delight to see these children enjoy their lessons, who would have destroyed their future, had they not been introduced to Hope's classroom.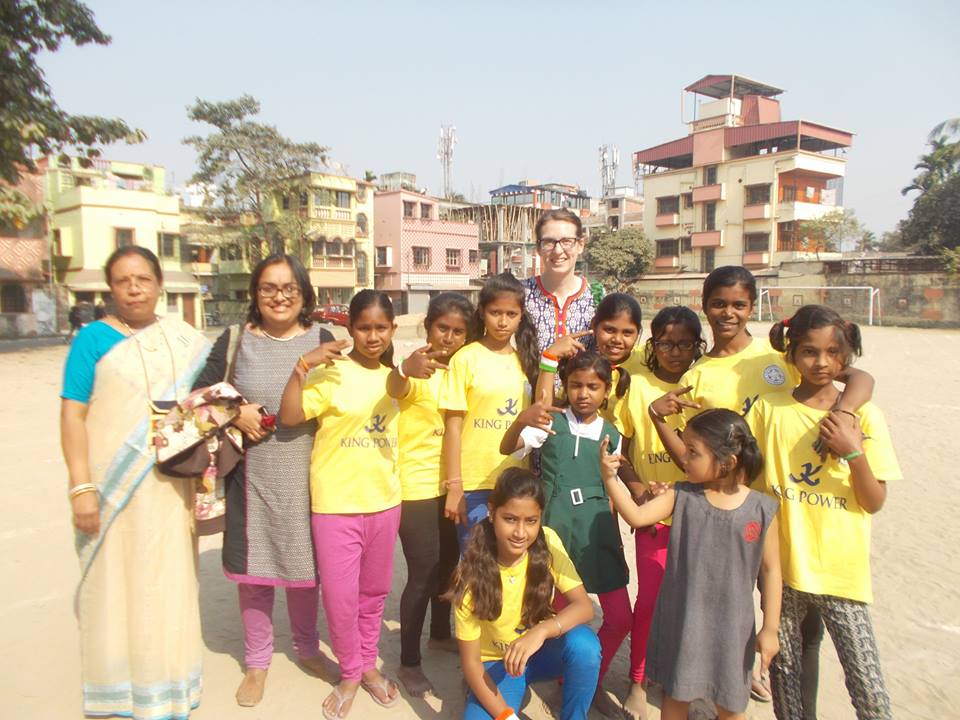 Behala Kreetika's Sports Day celebration
Behala Keertika Girls enjoyed their sports day along with some of our volunteers. Many games and races were held such as a skipping competition, biscuit race, marble race, hit the wicket, pass the ball along with dance competitions and mesmerizing yoga poses!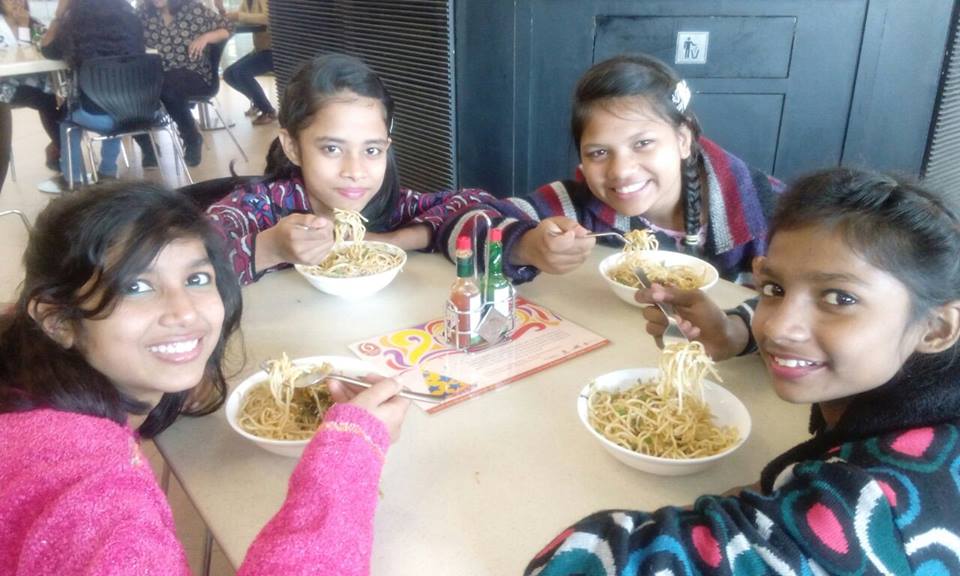 Lunch at Acropolis
There are few donors who consider underprivileged children not as mere beneficiaries but as their own kids. This was very well justified when a valuable donor took 55 young girls of our protection home to Acropolis Mall for a sumptuous meal.

Community Healthcare Programme with PBKOJB
Our Senior Programme Officer Sanjina Gupta, conducted a lmpact Evaluation to help strengthen the Community Health Care Programme, in partnership with PBKOJP. During the evaluation, Sanjina visited project sites & interacted with Community Health Volunteers, Community Environment Volunteers, project beneficiaries & key stakeholders.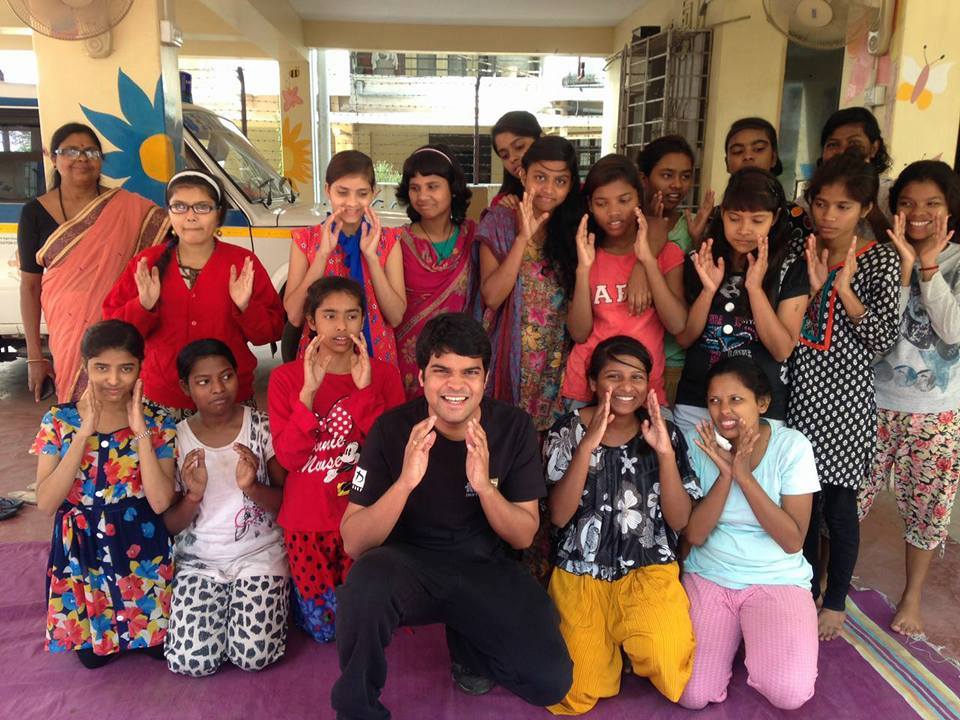 Karv Maga Global with Hope Kolkata Foundation
Rhys Vaz, a trainer from Krav Maga Global (KMG) India conducted self-defense workshops for six of our protection homes.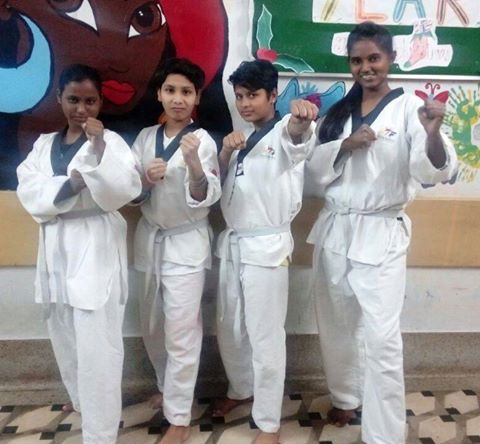 National Girl Child Day
In India today - - 53% of girls in the age group of 5 to 9 years are illiterate. - 1 out of 4 girls is sexually abused. - Every sixth girl child's death is due to gender discrimination. - More than 50 percent of girls fail to enroll in school. If we reflect at Hope's contribution in the last year - - 250 girl child has been enrolled in mainstream education through outreach sponsorship - 80 girls were enrolled in pre-primary schools - 323 girls (slow learners) are given special education - 15 girls have been rescued from the streets The challenge is yet incomplete, yet the distance covered so far is indeed a mile ahead.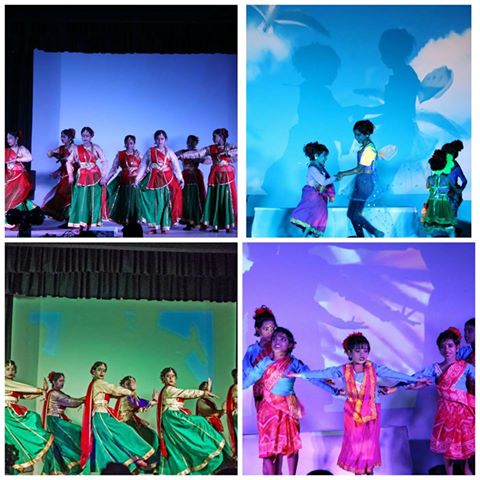 Bhoruka Public Welfare Trust celebrates 35 years
Bhoruka Public Welfare Trust celebrated 35 years of dedication and diligence towards the health, protection, and education of children and vulnerable people in Kolkata. Congratulations and we are happy to continue our partnership working together.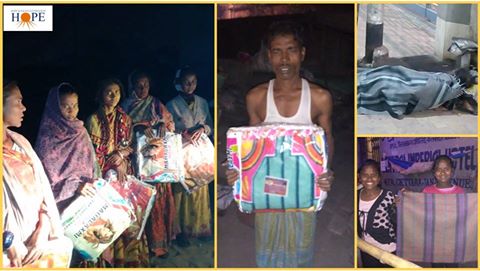 Blanket Distribution
Through our Child Watch - night patrolling team, The Hope Foundation India distributed 128 blankets to the needy ones this winters. We covered the orphans, elderly people residing on the streets and slum in Hastings, GD Park, Strand Road, Bandar Patty and CR Avenue area.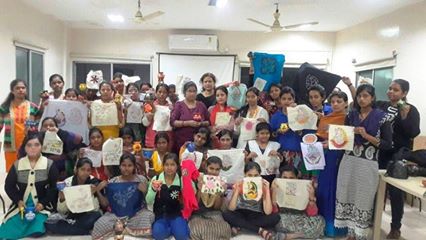 Pidilite Industries at Hope Life Skill
A facilitator from Pidilite Industries Limited conducted a 3-day workshop at Hope Kolkata Foundation - Café and Training Unit for 38 of our trainees. The trainees were enlightened to learn the unique and trendy designs on fabric and clay.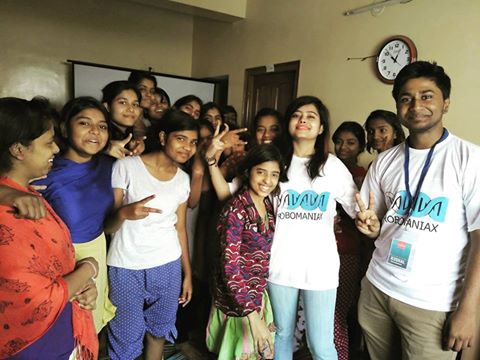 Robotics workshop at Hope Life Skill
Robo Maniax conducted few sessions for our children on Science, Technology and Basic Robotics. Children were very much excited and enlightened to learn about the new content.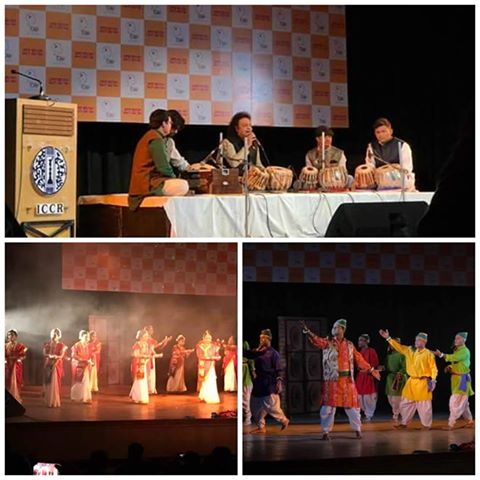 Iswar Sankalpa celebrating 10 years
Congratulations to Iswar Sankalpa, one of our partner organisations, as they recently celebrated 10 years of caring for different minds. A spectacular show of dance and a special tabla performance by Tanmoy Bose, was enjoyed by everyone. A wonderful exhibition of Iswar Sankalpa's handcrafts was also on display.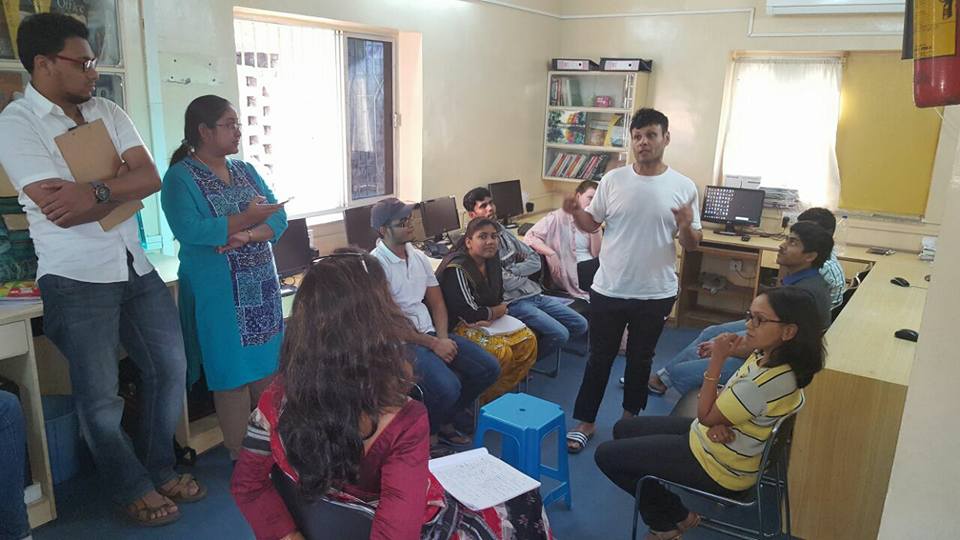 Debate on smartphones at Life Skill Training Unit
We train individuals not only to be skilled at work but also ensure that they are well versed with English when they take up any vocation. Children at Hope Kolkata Foundation - Café and Training Unit expressed their views on the increasing use of smartphones today.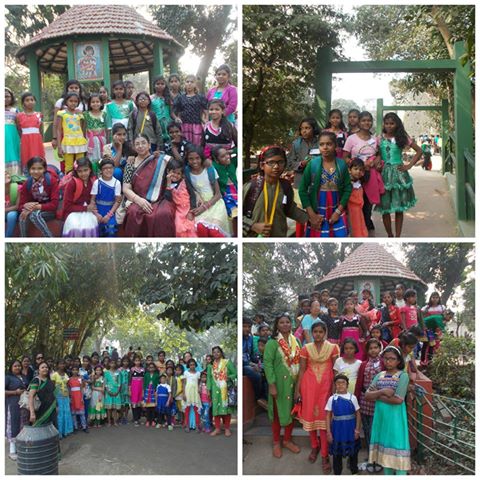 Visit to Zoological garden
Behala Keertika girls were treated to a fun-filled visit to the Zoological Garden, where they saw many exotic animals and birds. The girls were very excited to see the Bengal Tiger and enjoyed watching the chimpanzees swing from tree to tree. We are very happy to support and be a partner with such an organisation.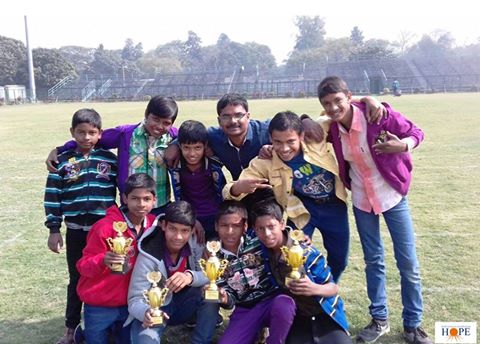 Annual Sports day at J.D.Birla Institute
J.D.Birla Institute invited The Hope Foundation India's children to participate in their annual sports day. Our children participated in the dress-up race, hit the apple race, and hair do race. Of the nine kids who participated, four of them won the race and returned with winning trophies.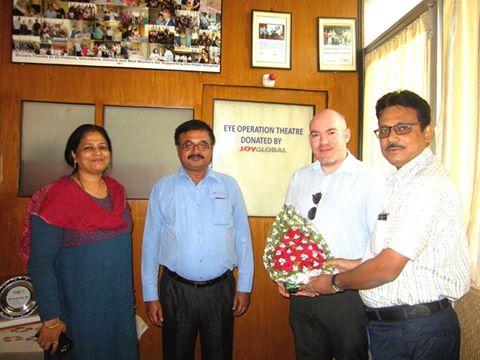 Joy Global with Hope Kolkata Foundation
We are delighted to share that our CSR partner, Joy Global Inc. will continue to extend their support to The Hope Foundation India for the next financial year as well. Joy Global Inc. has sanctioned INR 73,50,000 for Hope Hospital to purchase new medical instruments and to carry on conducting Free Eye Check-up camps in various areas of West Bengal. They are also funding a part of the running cost of one of our protection home i.e. INR 25,00,000. Thanks to Mr. Dean Thronewell, Regional President, Eurasia; Mr. Damian O'Connor, Financial Controller, Eurasia; Mr. Shib Bhowmick, Managing Director of Joy Global Inc., Geeta Venkadakrishnan, Director, The Hope Foundation India and others from Joy Global Inc., who have been consistently supporting us.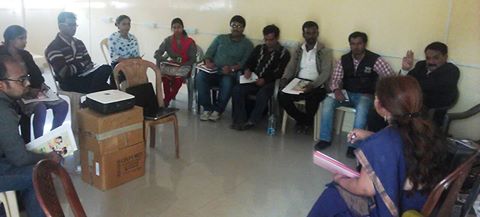 Child Protection Training
If an organisation deals with children, it becomes inevitable on their part to train their employees and acquaint them with child protection policies. The Hope Foundation India takes special care of their children and conducts induction programs on child protection policies at regular intervals for their staff.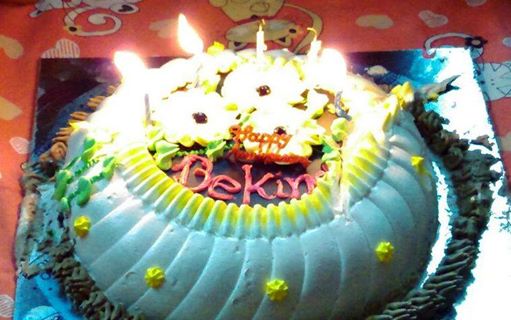 BeKind Boys Anniversary
It has been 5 eventful years that children are being cared for at Bekind Boys' Home. Our heartfelt gratitude to Brian Flanagan, Bekind Ireland and The Hope Foundation for all the love, care, and support. Catch glimpses of the celebration by the innocent toddlers.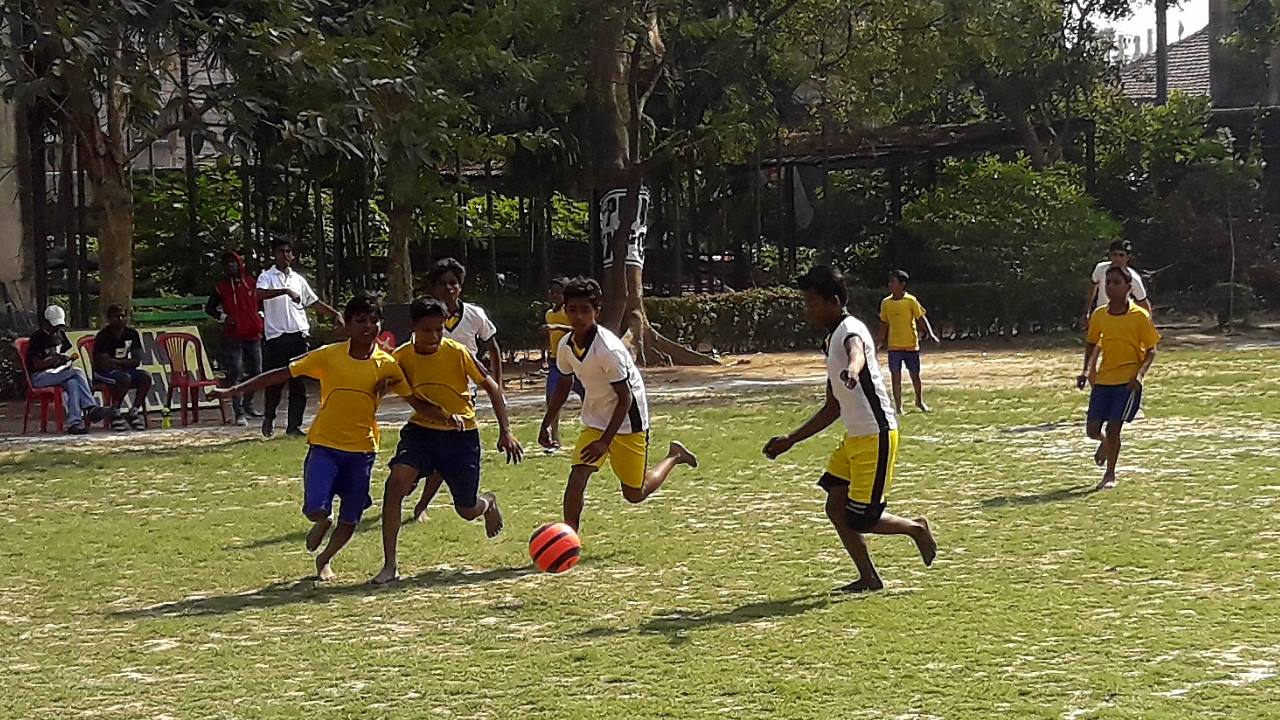 Football Tournament
Every child has the right to play. Our children participated in Ragiv Ganguly Sports Tournament. Team Hope challenged Khidderpore Lions and Sunderban Crocodiles in football and enjoyed watching other sports on the day such as kabaddi and cricket.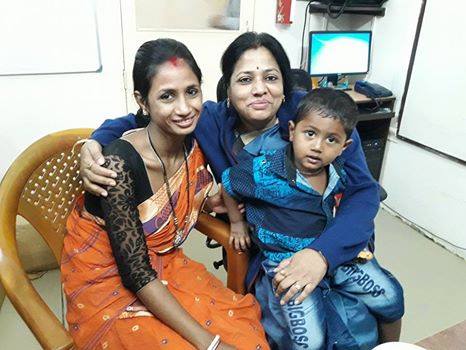 Success Story
Jyotsana (23) was 8 years old when she came to one of HOPE's protection home, today she has her own business weaving and trading in quilts. Jyotsana went to school and then went on to study tailoring at HOPE's vocational training center, Life Skills. She has since established her own business in weaving and trading quilts. It was with great joy to when she came back to visit HOPE Kolkata Foundation's Director Geeta Venkadakrishnan, with her 3-year-old son last week.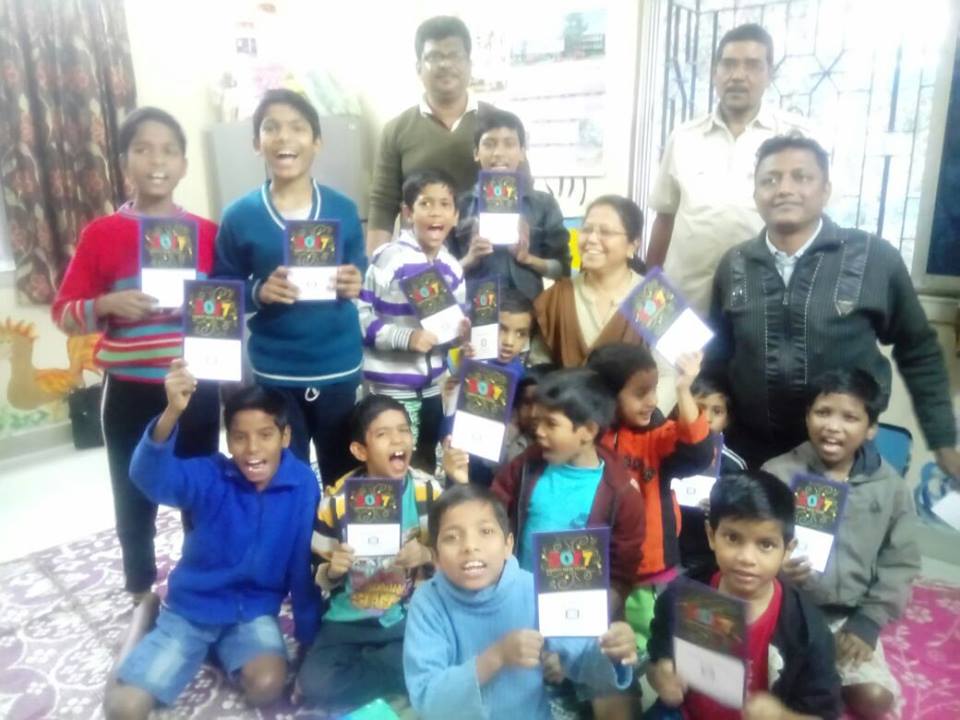 Blanket Donation
The PDP Group was at one of our protection homes to donate blankets this winter. Children were really happy meeting their team and interacting with them on their New Year plans.

PBKOJP inaugurated a school library
One of our partner organisations, PBKOJP, recently inaugurated a school library as part of their aim to make schools an inclusive environment for children with learning difficulties. These pupils now have access to a library with reference and story books, written by inspirational authors which will enhance their creativity. Mr. Dipak Biswas, Chief Functionary of PBKOJP, is in the picture, along with pupils and teachers of CPC Remount Road Institution.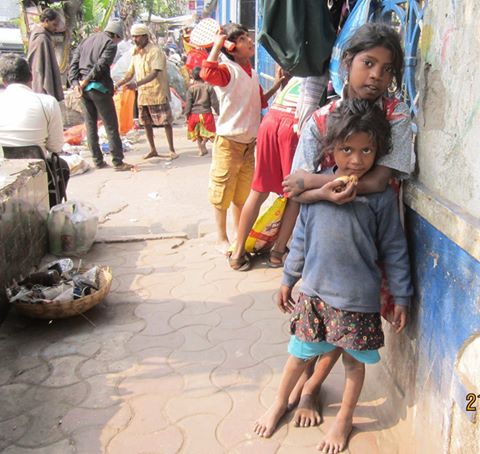 National Human Trafficking Awareness Day
An estimated 27 million adults and 13 million children around the world are victims of human trafficking. At The Hope Foundation, one of our commitments is to actively highlight and tackle the issues of child trafficking and in and times of emergency, HOPE provides humanitarian relief to those affected. How are we helping? A synopsis of the anti-trafficking work by The Hope Foundation India's Child Watch team, from April – Dec 2016: No. of people rescued (who could have been trafficked): 40 Females: 15 Males: 25 Age range: 6 months – 90 years. Out of these 40 saved souls, 14 have been successfully restored to their families. Rest are being rehabilitated, sheltered and cared for, in various protection homes under Hope. These lives could have been lost, otherwise. We urge everyone to take a pledge against this barbaric trade of humans.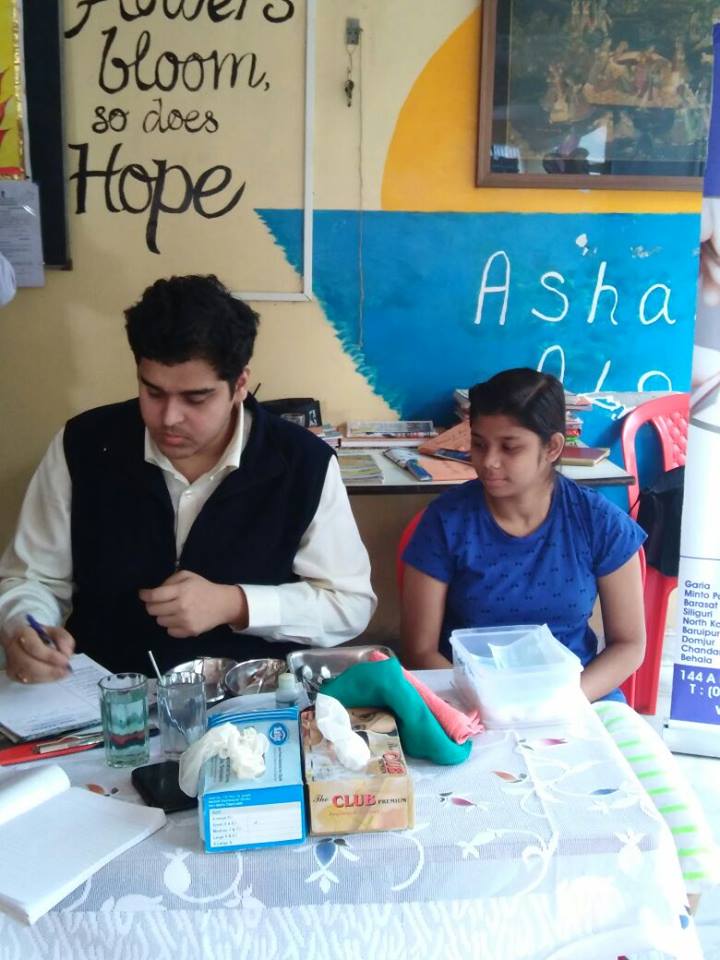 Dental check up camp at our protection home by Smile & Profile
The organisation checked 35+ children and also shared some tips to take good care of our teeth.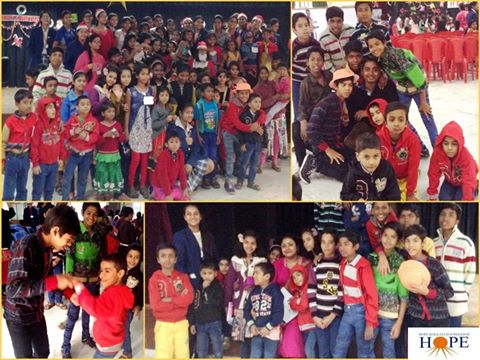 Participation at Mahadevi Birla World Academy
Everyone wants to party. Children from The Hope Foundation India were invited to participate in revelries of this festive season by Mahadevi Birla World Academy, one of the renowned schools in the city. Kids had a great day interacting with the school children and teachers, playing various games and munching on delicious snacks! We thank Mahadevi Birla World Academy for their contribution in making the little ones smile!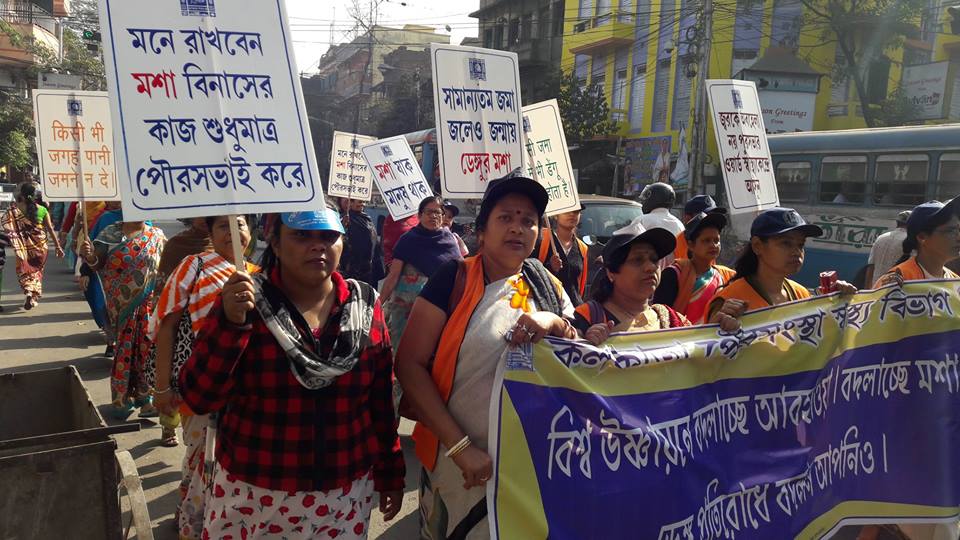 Awareness rally against Dengue
Dengue is a mosquito-borne viral disease that has rapidly spread in all regions of the world, in recent years. According to the fact sheet published by World Health Organization (WHO), in July 2016, a recent estimate indicated 390 million dengue infections per year. The year 2016 saw West Bengal recorded the highest number of dengue deaths in India, with the figure till August end standing at 22. To counter this global issue, Mayor Sovan Chatterjee inaugurated a rally to create awareness against dengue, to mark the beginning of a year-long program taken up by the Kolkata Municipal Corporation (KMC). The health team of The Hope Foundation India participated in this awareness campaign to control the spread of dengue in the winter season, along with civic employees, celebrities and people from all walks of life. The rally started from KMC headquarters on SN Banerjee Road, Kolkata. Our health team not only took part in this mass awareness procession but also distributed informative leaflets to people with important guidelines on dengue prevention and cure. The health workers even interacted with local community people to educate them on the subject.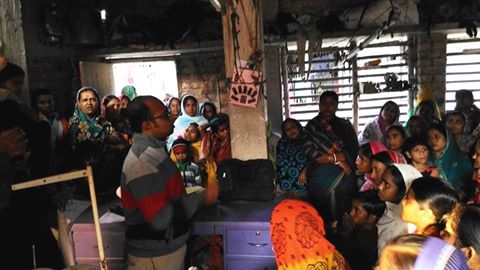 Muktangan Project
Even today, most of the community dwellers have their kids as first generation learners. Oblivious of the advantages of being educated, slum dwellers usually ask their children to quit school and help in running the house. The Hope Foundation India under Muktangan project conducted two camps in Budge Budge and Pujali area respectively, educating the people on the benefits of getting educated. By conducting such sessions - we expect more parents to enroll their children in school and also motivate the dropouts to continue their education.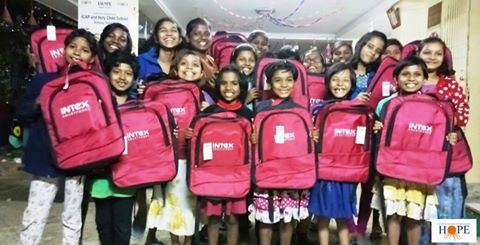 School Bag Donation
New year ushers in a new session in school. Such is the happiness when a child gets a new school bag to take to their educational institution.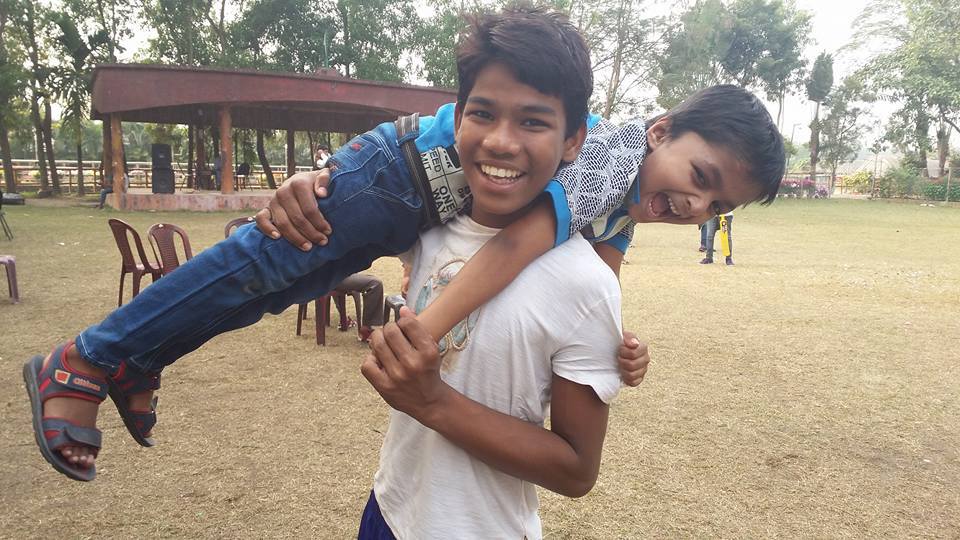 Annual Picnic
Boy's outing to Deulti, Howrah, annual picnic.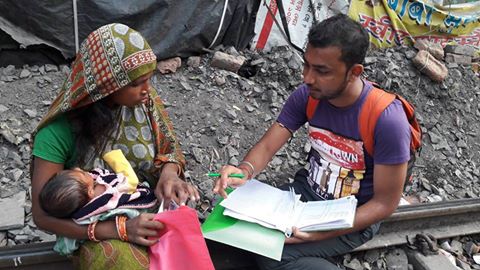 Healthcare
The Hope Foundation India conducted postnatal care check-up at Nimtala Street. It is one of the important components of the Jan Swastha Suraksha Health project. Rigorous home visits, follow up, counseling was being done to motivate the mothers as well as the families.