The Hope Hospital was established in May 2008 by the Hope Foundation to specifically cater to the secondary health care needs of street and slum dwelling children and adults.
| Total number of beneficiaries (Female ,Male & Children) | Budget (Rs.) | Supported By |
| --- | --- | --- |
| 36,694 | 84,00,000 | The Hope Foundation Joy Global |
Accessing health services for those living below the poverty line in Kolkata remains difficult, with India only spending only 4.2% of its national GDP on health care services. The Hope Hospital was envisaged to ensure proper medical care for the under privileged people below the poverty line who are otherwise deprived of proper medical care they deserve. The hospital boasts of an inpatient department with Intensive Care Unit, and outpatient department a surgery unit and a diagnostics Center.
Inpatient Ward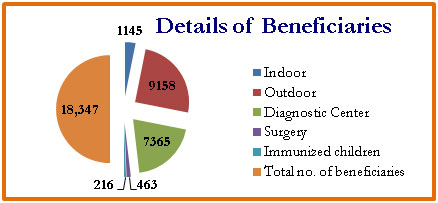 The Inpatient Wards provide quality care, diagnosis, treatment and medication under very hygienic conditions to children and adult patients. A representative chart of the beneficiaries of the services extended by the Hope Hospital during the period April, 2015 – March, 2016 is given here:
Achievements
As a part and continuous effort of network activities, Hope Hospital is connected with different N.G.Os. Volunteers from various organizations from different countries and the local community provide their services and care to patients. The hospital established a platform for mutual sharing and facilities and allows more space and opportunities for complete care and rehabilitation of the poor patients who are homeless. In the last year, network with the following six charities were successfully established:
Jishu Ashram, Siliguri, Matigara.
Silesian of Don Bosco, Kolkata.
New Age Society for All, Kolkata
Nimyle Home For Challenged Children
St. George School, Br. Kristopher, Kolkata
Christanjali Paribar, Kolkata.
This year we have successfully provided medical and health support to 10, 528 people at the Hope Hospital.
A total of 481 surgeries were performed.
Govt. of India renewed the Rastriya Swasthya Bima Yojna, a project for treating the BPL (Below Poverty Level) people at free of cost in Hope Hospital after successful completion of one year agreement.
There was 35 % increase in Inpatient department at the Hope Hospital during the period of April 2015 – March 2016 as compared to the last year.
1 advanced training was successfully organized on Infection Prevention and Use of Suture for the Nurses and ward staffs of Hope Hospital to enhance their skills by Johnson & Johnson company on 26.06.2015.
515 RTI/STI symptomatic people were identified and referred to government hospitals for testing and treatment. Out of them 222 people were tested positive and recovered successfully after treatment.
137 people who were identified to be affected with mental health issues were provided with medical and counseling support. Out of them 41 successfully recovered and have attained jobs.
457 people were rescued and admitted to Hope Hospital for treatment by volunteers and other NGO's.
27 homeless and abandoned patients, both male and female were rehabilitated from the Hope Hospital during this year.
Summary of Annual Activity
Hope hospital benefited several thousand people living on the streets across it's four departments, and helped to markedly improve their overall health conditions.
In Patient Department:
Provide four nutritious meals to patients on a daily basis.
Ensure cleanliness and hygienic conditions in the hospital.
Conduct necessary Pathological tests, X-Ray, Cardiological tests, EEG and Sonography tests.
Outpatient Department:
Ensure Consultant Doctors provide diagnosis and follow up service in the clinics.
Diagnostic Department:
Conducted tests in the Pathology, X-Ray, ECG, Echo Cardiography, EEG and Sonography departments both for Inpatient and Outpatient department.
Immunization was done to Children.
Surgical Department:
Surgical Department is well equipped with modern instrument with C-ARM facilities which help us to conduct the surgeries, like; General, Paediatric, Orthopaedic, Gynaecological, ENT, Urological, Maxofacial surgery, Plastic Surgery, Neuro and Spine Surgery.
Major Achievements
Everyday, Hope hospital networks with other NGOs, volunteers from various organizations of a range of countries and local the community through their services and care to patients. eg. Responsible Charity, Udayani Social Action and many others.
In April, 2013-March, 2014, Hope hospital rehabilitated 15 homeless patients after giving treatment at different NGOs.
Second and third batch of St. Joseph Nursing Training Institute has started their practical training in Hope Hospital from April, 13 and July, 13 and has completed their course in June and December, 13 respectively.
Hope Hospital has registered under Rashtriya Swasthya Bima Yojna (RSBY) to help people of Below Poverty Level.
Hope hospital has started Neuro Surgery of its patient.
Training and checkup campaigns were conducted on 15.1.2014 and 16.1.2014
C-ARM machine was donated by Calcutta Calling to hospital. It helps in orthopedic surgeries, Spine Surgery etc. It will help us to generate funds from outside patients who will be admitted in our newly opened HDU for surgeries.
Success Stories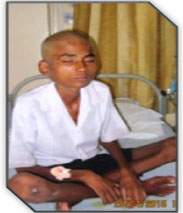 This 12 year old boy from Bihar was rescued from Howrah Station. He had come to Kolkata to visit his aunt at Mallik Bazaar but ended up roaming and begging at Howrah Station before the Night Round team rescued him. He was weak, thin and in a very serious physical condition so the team admitted him at Hope Hospital on 21.4.2015. After a thorough check-up it was revealed that he had Diabetes and his blood sugar level was as high as 500mu. At Hope Hospital his treatment started to get his sugar level under control. He said that he wanted to go to his aunt's house because that his parents knew that he was there. One day the boy gave a contact number with which the Hope Hospital got in touch with his family His aunt came to see him. Even his mother came from Bihar and was very happy to see him and to know that he was now undergoing treatment. On 15.06.2015 he rejoined his family and was discharged from Hope Hospital.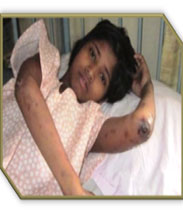 This 10 year old girl was found at Sealdah Station by volunteers of Missionaries of Charity. At the time of her rescue her whole body was full of wounds which looked like a kind of fungal infection. She was admitted at Hope Hospital on 26.6.2015 where she underwent counseling. During one session she shared that her father is an alcoholic and that she was physically abused by her father and her mother. So she had left her house without telling her parents and reached Sealdah station by train. She was under care and treatment at Hope Hospital and her wounds slowly healed. As she was vulnerable on the streets and not at all safe in her house, she needed a protection home for her safety and rehabilitation.
Success Stories
Case Story 1
A child, Laltu, was rescued by one of Hope Kolkata Foundation's social workers during Night Watch. He was seriously ill at the Sealdah station, and he was brought to Hope Kolkata Foundation Hospital. He needed heart surgery which took place on 22.05.13. Since then he has recovered well. He is now living in a Hope protection home for boys, doing fine and leading a normal life. He has also begun attending school.
Case History 2
Mantu is a 10 year old boy rescued from the street by a social worker and brought to Hope Hospital for treatment. He was in serious condition with a colostomy bag. After receiving an operation by our pediatric surgeon, he is now at one of the Hope Foundation's boys' homes receiving education and shelter.
Follow up: Date: 8.7.2015
Her wounds were healed. She was ready to be discharged. She was produced to CWC for a shelter and was subsequently rehabilitated at Mother and Child Care Unit of Hope Kolkata Foundation on 8.7.2015.